Why is the Great Barrier Reef Foundation throwing its weight behind a campaign that copies the successful grassroots initiative Plastics Free July? Climate change and its dramatic effect on the Reef remains the elephant in the room but the fossil-fuels backed GBRF continues to ignore it. Elizabeth Minter reports.
The Great Barrier Reef Foundation, given a $444 million grant by the Coalition government in April 2018 without a tender process, is supporting an environmental campaign that simply copies one of Australia's most successful grassroots environmental initiatives and one that has gone global.
The $444 million grant came under huge scrutiny when it was revealed that at the time the Foundation had just six full-time employees. The final report of the Senate committee examining the government's decision to award the grant called it "a highly irresponsible decision, hastily concocted by relevant ministers" and recommended the unspent funds be returned to the commonwealth and reserved for future reef projects.
Coalition's $444m for Barrier Reef foundation did not follow rules
Copycat campaign
"I Refuse to Single Use" was launched over the weekend and calls on Australians to "Join the revolution and for four weeks go plastic free this May". The campaign's website states that all the money it raises will assist the Great Barrier Reef Foundation in protecting the reef.
There are some striking similarities between this "I Refuse to Single Use" campaign and the extraordinarily successful Plastic Free July initiative, which over the past decade has been supported by hundreds of millions of people and thousands of organisations around the world.
Plastic Free July was conceived in 2011 by Rebecca Prince-Ruiz, and from humble beginnings the initiative has won a host of presitigious awards. In July 2020 alone, an estimated 326 million people from 177 countries took part in the challenge.
In Australia, the federal Department of Industry promotes Plastic Free July on its website Energy.gov.au. Last year, the federal assistant minister for waste reduction celebrated his involvement in a marine debris clean-up activity to mark Plastic Free July by sending out a media release.
The company behind I Refuse to Single Use (https://www.irefusetosingleuse.com.au/) is Donor Republic, which describes itself as "an innovative full-service fundraising and marketing agency dedicated to the not-for-profit sector".
One has to wonder how innovative is a campaign that effectively copies the Intellectual Property of an initiative that has been around for more than 10 years and is so successful. One environmental campaigner noted that:
"If this were a corporation it would be in court for breaching copyright."
Is the Great Barrier Reef Foundation aware of this? Overnight, the website took down a Frequently Answered Question: "If we have Plastic Free July, why is this campaign important?" See screenshots.
I Refuse to Single Use website, March 16, 2021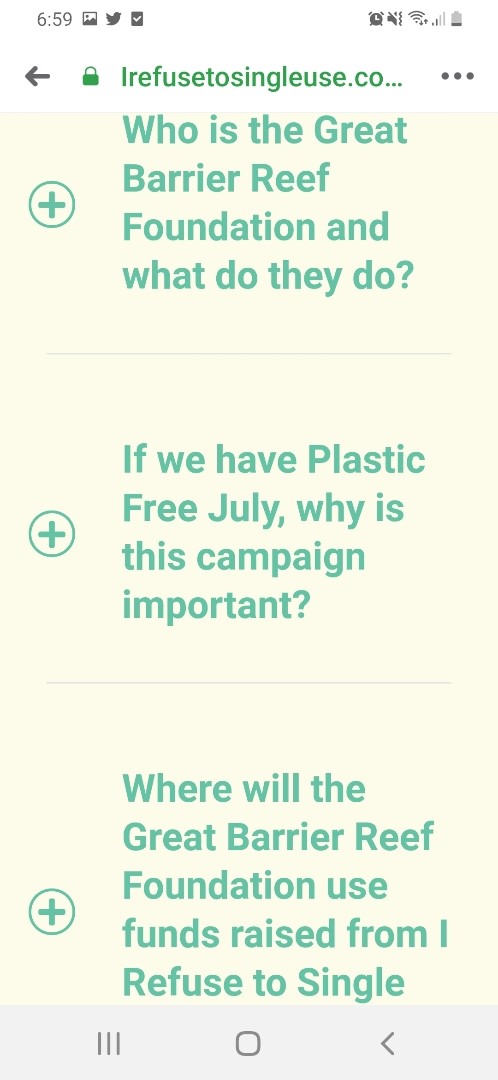 I Refuse to Single Use website, March 17, 2021

Act with integrity
Not only is the Great Barrier Reef Foundation apparently attempting to undermine an extremely successful initiative, it is seeking to make money from the "I Refuse to Single Use" campaign.
The website asks participants to set a minimum fundraising target of $99, payable only to the Great Barrier Reef Foundation.
The Foundation's website, under the heading Our Values, says: "Act with Integrity." Is this what the Foundation calls integrity?
One also has to query why the Great Barrier Reef Foundation is getting involved in such a campaign when the fundamental issue affecting the reef is carbon emissions, not plastic. Surely it would be a better use of time and resources to support existing organisations that are tackling the issue of single-use plastic and focus on carbon emissions.
A closer look at the Patrons of the Great Barrier Reef Foundation may answer this question.
The Patrons include an array of mining companies, including BHP and Rio Tinto, Orica, an Australian-based multinational that is one of the world's largest providers of commercial explosives and blasting systems to the mining and oil and gas markets, heavy polluters such as Boeing and Qantas which in public promotes climate action but in private betrays those commitments and government-contract rentseekers Deloitte and PwC from the "Big Four".
Emails show Qantas promotes climate action in public, betrays carbon commitments in private
Great Barrier Reef Foundation response
Michael West Media asked the GBRF whether it was providing money to Donor Republic, why the Foundation was potentially undermining the Plastic Free July campaign, how it fit with the Foundation's values to act with integrity, and whether its time would be better spent supporting existing organisations that are already doing this worthy work around plastic free initiatives and for the GBRF to tackle other issues, such as the key issue of carbon emissions.
The Foundation responded:
"I Refuse to Single Use is initiated by an independent organisation, Donor Republic, who have approached and chosen the Great Barrier Reef Foundation as the beneficiary of funds raised from the event. The event is run and managed by Donor Republic.

The Foundation is not providing any funds to Donor Republic to run the I Refuse to Single Use campaign.

Everybody has a role to play in saving our Reef and we are proud to support all initiatives that encourage people to make positive changes in their behaviour such as reducing their use of single use plastics."
Late to the party
Is this campaign simply more greenwashing? South Australia has of this month gone completely single-use plastic free.
The Queensland government announced a similar ban on a huge range of single-use plastic items that comes into force in September.
Meanwhile the European Parliament is also ahead of the game. In March 2019, the European Union approved a law banning single-use plastic items such as plates, cutlery, straws and cotton bud sticks and so on. The ban comes into force this year.
In light of a recent report by Australian academics that the Great Barrier Reef is one of 19 Australian ecosystems that is "collapsing", surely promoting new campaigns to reduce carbon emissions and support existing plastic reduction programs would be a better use of time and resources.
One environmental campaigner told Michael West Media that it appeared some brands were trying to profiteer from what have long been people-led movements.
Michael West Media has put a series of question to Donor Republic.