Pork 'n 'Ride — another election-winning rort for the Coalition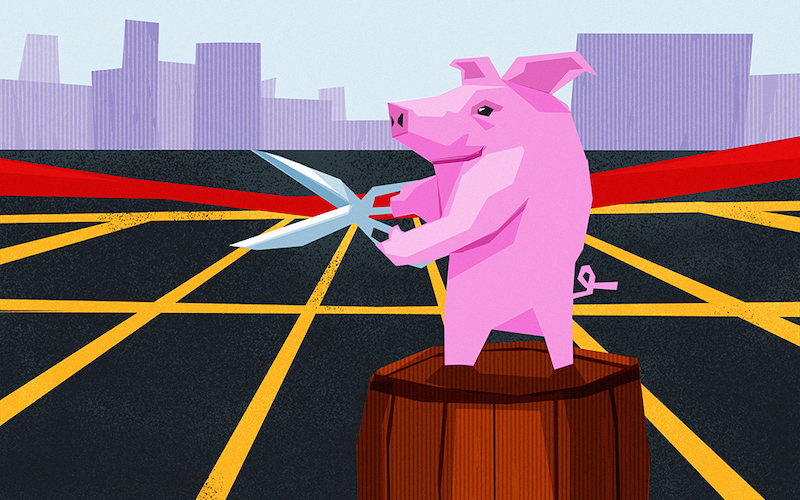 On the heels of the #sportsrorts and our investigation into the Coalition Government's media and regional growth fund rorts, we bring you Pork 'n 'Ride.  Jommy Tee uncovers the latest dodgy vote-winner from the 2019 federal election — the $149 million Commuter Car Park Fund.
At Senate estimates last night, ANAO executive director Brian Boyd came out swinging with a volley of unassailable rebuttals. No, Mr Morrison, the sports grants were not "all eligible". Nearly half – 290 – were ineligible. But, as we now know, the sports rorts were just the bottom of the pork barrel. In the public's interest, we have now investigated the Commuter Car Park Fund. We at Michael West Media have dubbed it the "Pork 'n' Ride" program.
Before landing the prime ministership, Scott Morrison liked to trumpet his "congestion-busting" infrastructure projects — workshopped, no doubt, by his favourite pollsters, Crosby Textor. But runs on the board were needed to get pre-election traction in voter-land. Like delivering actual projects.
And what better way to "game" the system than to supplement the $4 billion Urban Congestion Fund with a sub-program called the Commuter Car Park Fund (CCPF). The $500 million CCPF was designed to invest in commuter car park upgrades that encouraged greater use of public transport — especially along rail corridors.
Like preceding programs, it would facilitate the distribution of large dollops of pork for Liberal and marginal seats just ahead of the election.
The pre-election budget announced 13 new CCPF projects totalling $149 million — and all, yes all, of those first-cab-off-the-rank projects went to seats held by the Liberal Party, including six in highly marginal NSW and Queensland electorates.
Pork N Ride from Jommy Tee on Vimeo.
Those electorates likely to swing to Labor were those with a margin 2% or less and included the seats of ministers, Peter Dutton and David Coleman.
The 13 projects would deliver approximately 3,300 new car-parking spots around the railway stations that, miraculously, were all located in Liberal-held electorates.
The program came as a shock to local councils and state governments, as The Age commented in regard to the Victorian projects:
"So sparse were details of exactly how these six parking lots would grow, neither the state government nor in large part local councils could say where the expansion would occur".
The efficacy of commuter car-parks has been the subject of some academic work. The Conversation published an article when the CCPF was announced putting the forward the case that:
Urban congestion was a problem of the quality and connectivity of public transport networks, not just a parking and road space issue."
While the provision of extra car-parking spaces may not deliver much bang for our buck on transport outcomes, it does boost an incumbent's re-election chances.
The strategy is simple. Get the member/candidate to identify a public need, develop a petition around that issue, use the data collected (names and addresses of constituents) and mine it accordingly, fund the project, and then promote/micro-target the outcome to the petitioners.
While pork-barrelling has been around for decades, modern political campaigns are now highly attuned to micro-targeting voters with campaign material. The obvious advantage of incumbency is the capacity to use a pre-election budget to boost the party's campaign coffers.
It is, of course, harder to broadly manipulate the Pork 'n' Ride. It's geographically constrained around existing rail corridors, ruling out many electorates.
So let's take a look at both the marginal and safe Liberal seats that benefited from Pork 'n' Ride.
We won't dwell on the safe seats, apart from highlighting that Labor seats along rail corridors scored diddly-squat.
As to marginal seats, six projects in four highly marginal electorates landed butter-side up in the cash splash. Each was on a knife-edge margin and if the opinion polls were to be trusted, would swing to Labor. As we know, the pollsters screwed up spectacularly.
A couple of points that should be noted.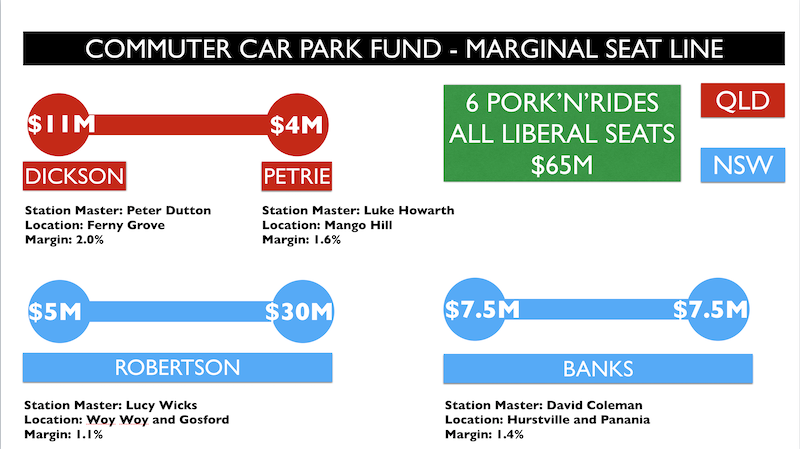 Banks electorate
David Coleman took the opportunity weeks before the budget in February 2019 to promote the parking issue in Panania and encourage constituents to sign a petition on his website.
The petition was also rolled out for Hurstville.
When the funding came through who better to assist in the announcement than the congestion-busting prime minister himself both in video and photo opportunities.
End result: 2 x Pork 'n' Rides = total $15 million
Dickson electorate
The announcement of the Ferny Grove Pork 'n' Ride in Peter Dutton's seat also followed the electioneering playbook. In the slickly produced video below, Dutton highlighted the parking issue on a Facebook post in September 2018, calling for people to sign a petition. Dutton then delivered the funding in February 2019 in a pre-budget media release.
Apparently, there was no need for the prime minister to be involved with this announcement in the ambitious home affairs minister's seat …
End result: 1 x Pork 'n' Ride = total $11 million
Petrie electorate
Another case of follow the playbook. With what was now a well-worn script, local LNP member, Luke Howarth, dutifully raised the issue; organised a petition; delivered funding and generated publicity.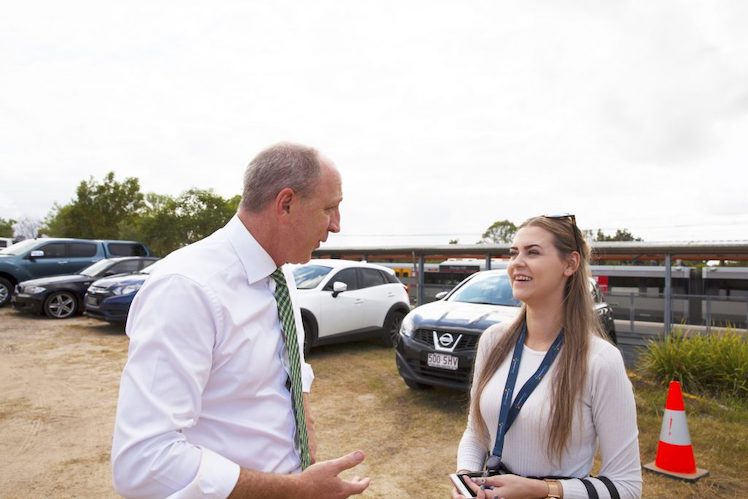 End result: 1 x Pork 'n' Ride = total $4 million
Robertson electorate
By now a clear picture is emerging of the modus operandi. Again it was put in action in Lucy Wicks' seat who raised the issue and circulated a petition, delivered the funding and then milked it for all it was worth.
End result: 2 x Pork'n'Rides = total $35 million
It is important to note that that the seats in question were also larded with pork from #sportsrorts programs as well as other infrastructure and transport projects such as the much larger $4 billion Urban Congestion Fund.
Is it any wonder with all those pork barrels rolling into the four marginal electorates that Pork 'n' Rides were needed to park it all?
Editor's Note:
The 13 projects were all announced in the pre-election budget and were committed funding, We are also aware of other Pork 'n 'Rides announced as election commitments during the campaign — most notably by Angus Taylor here. 
———————–
The Coalition's claimed "miracle" election win is looking decidedly hollow as more rorts surface in the media. @Jommy_Tee uncovers yet another whopper — the Regional Growth Fund. https://t.co/T11Lu2GVG2 via @MichaelWestBiz

— ????Sandi Keane ???? (@Jarrapin) February 12, 2020
---
Author

Jommy Tee

Jommy Tee is a long-time career public servant, having worked in the policy development field for 25+ years as well as an independent researcher interested in politics, current affairs, and Nordic noir. You can follow Jommy on Twitter @Jommy_Tee.

Jommy Tee is a long-time career public servant, having worked in the policy development field for 25+ years as well as an independent researcher interested in politics, current affairs, and Nordic noir. You can follow Jommy on Twitter @Jommy_Tee.