When Macquarie Bank and Al Gore elbowed Maria's Farm Veggies into administration in June this year, the company's founder found himself, utterly bewildered, at his own creditors' meeting.
The bankers and their liquidators KordaMentha, along with their lawyers Baker and McKenzie, had wrested control of his cutting-edge glasshouse project and, somehow, to the dismay of the horticulture pioneer, voted his 84 per cent stake – that is, his own stake in his own company – in their favour.
"They tricked me," Cor Disselkoen, the 70 year old Dutchman told us this week. "The bank relied on some hidden clause in the mortgage documents to use HEICA's (his company) proxy vote in favour of the bankers. I was not aware. They did not tell me."
Macquarie and its advisers declined to comment for this story. They may be on solid ground contract-wise, at least as far as the "hidden clause" goes. Yet, the dispute is now before the courts and, suffice it to say, that poetic justice for Cor Disselkoen and his family may be forthcoming.
The corporate undertakers, it appears, made an elementary mistake by failing to offer the Dutchman and his company, Maria's Farm Veggies, "farm debt mediation" before they pulled the pin.
Under NSW laws, banks are required to offer mediation to farmers before they take "enforcement action" such as appointing an administrator and calling in their debts.
So it is that the insolvency firm KordaMentha, and two major creditors, Macquarie and Al Gore's green fund Generation Investment Management (GIM) were hit with a further legal action this week; this time it is for failing to offer farm debt mediation to Cor Disselkoen's private company Horticulture & Energy Investment Company No 1 Pty Ltd (HEICA). HEICA owns 84 per cent of Maria's Farm Veggies.
For their part though, and quite bizarrely, the cuff-linked buccaneers who now control the glasshouse project from Sydney's CBD are arguing Maria's Farm Veggies is not a farming project at all.
Despite the middle word in Maria's Farm Veggies being "Farm", despite the purpose of the venture being to farm pesticide-free tomatoes and cucumbers, despite the land on which it resides near Williamtown, Newcastle, being zoned rural, ergo farmland, the wallet farmers from Sydney's CBD deny this is a farm.
Rorticulture: MacBank, Al Gore & KordaMentha deny a farm is a farm
Cor Disselkoen is now challenging the appointment of KordaMentha as no mediation was offered before they snatched control and therefore their appointment is void. He also says the banks put him under the moment they knew the company was to receive $20 million in insurance payouts.
The travails of Maria's Farm Veggies can, in large part, be put down to flood damage, particularly from the floods which ravaged the NSW mid-coast in early January this year.
Insurance company AON subsequently dithered for three months doing its investigation – which meant project delays and further cost overruns – before confirming Maria's Farm Veggies was entitled to $15 million for loss of profits and a further $4.6 million for flood damage.
It was at a meeting in the company lawyers' office on June 28 this year that the insurance payout was confirmed.
After attending the meeting in York Street, Cor Disselkoen and his son wandered down to Bridge Street for their next meeting at the office of Macquarie's lawyers, Baker and McKenzie.
Before they got there though, they were told by their minority shareholder, Oliver Trjcevski, that he was resigning as a director and the company was to be put into administration.
"It appears KordaMentha and Macquarie thought they could simply take the Dutchman out of the picture, wipe out Maria's Farm's creditors, pick up a large insurance payout and continue with the project themselves"
Unlike most banks, who put receivers in to protect their secured assets, Macquarie and Al Gore's GIM used their security to take control of the entire company as well as its assets.
According to Disselkoen's adviser Geoff Shannon, it appears Macquarie appointed KordaMentha's David Winterbottom and Rahul Goyal joint "voluntary administrators" – notwithstanding that the founder, director and major shareholder Disselkoen was "involuntary" – in order to get access to the $20 million insurance claim.
As the $650 per hour, per person, fees of Winterbottom and Goyal ratchet higher and the project remains in limbo – as Cor Disselkoen's glasshouse builder has retreated to Holland in disgust – the insurance claim is now worth $25 million.
An interesting twist in all this is that the minority shareholder, who told Disselkoen he had stepped down as a director on the day the company was shunted into administration, does not appear on the corporate registry as a director.
Oliver Trjcevski, who has associations with Macquarie, also had a minority stake in Maria's Farm, and was also unavailable to respond to questions.
It appears Trjcevski – whether a director or not – had told Disselkoen's lawyer Charles Ciappara a month before the company went under, in Disselkoen's words: "he has been appointed a non-executive director of Maria's Farm".
Trjcevski, says Cor Disselkoen, had been asking about the insurance arrangements.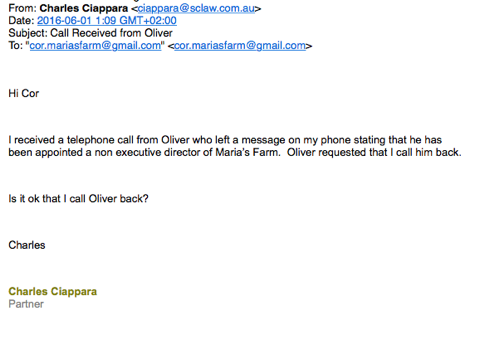 The Dutchman and his advisers are now claiming HEICA is also a co-borrower in the loan agreements, along with Maria's Farm, and as such ought also to have been offered farm debt mediation as HEICA was also subject to an enforcement action.
If the court deems the enforcement actions were illegal as Cor Disselkoen contends, KordaMentha may be ordered to stand down as administrator and the project may be returned to the hands of its founder, replete with $25 million insurance payout.
Indeed, as KordaMentha also went after the Dutchman and his family, placing a caveat over their private property and filing a lawsuit, these actions may also be regarded "enforcement actions". And if the administration is void then the administrators had no standing in the first place.
Maria's Farm has become a corporate mess, made far worse by the fact that glasshouse building is a technical affair. There are very few glasshouse builders in Australia.
Cor Disselkoen has been involved in horticulture since 1964, mostly producing and trading fruit and vegetables grown in glasshouses.
"My family have been growers and marketers of fruit and vegetables for over 100 years in the Netherlands and I have built eight glasshouses in both the Netherlands and the United Kingdom," says his affidavit to the KordaMentha proceedings.
It appears KordaMentha and Macquarie thought they could simply take the Dutchman out of the picture, wipe out Maria's Farm's creditors, pick up a large insurance payout and continue with the project themselves.
Alas, they can't find a builder with the right expertise. The previous builder is owed $10 million, says Disselkoen. "They offered him $10 million to finish the project. They have asked him to come back from The Netherlands".
This is a $20 million job however and the bankers are expecting the builder to forget about the $10 million he is already owed and do it for half price, he says. "He won't do that."
Already, Disselkoen has offered to pay out the secured loans of Macquarie and GIM and continue the project – besides paying creditors in full (he insists creditors such as his builder be paid in full) – but the bankers and administrators "only have an interest in staying as long as possible".
http://www.mariasfarm.com.au/home
It is possible to have a mite of sympathy for Macquarie. At least it lends to progressive agriculture projects and it presumably got Al Gore's Luxembourg fund into the game too. The major Australian banks are busy leveraging themselves to the housing market rather than bankrolling small business.
Moreover, correspondence from Macquarie's lawyer, Baker and McKenzie, shows Cor Disselkoen had signed a "Subordination Deed" between HEICA and Macquarie and others which meant they could take his HEICA shares and vote them in favour of the "Security Trustee" (Macquarie) in the event of default, without notice. Which they did.
Still, they seemed to have bungled the farm debt mediation bit and appear exposed, unless of course they can somehow argue successfully that a farm is not a farm.
Were they able to do this it would be a travesty, a triumph of pettifogging and devious business practise over good sense. Cor Disselkoen is a man who came to Australia and spent $27 million on a cutting edge agriculture project which was to have given jobs to more than 100 refugee workers and lifted the spirits and the industry of a depressed rural community.
Now the paper shufflers from the CBD are running the show from their office tower eyries. The thing is on ice. They can't find a builder, they don't want to pay creditors – at least the trade creditors who have done the non-paper-shuffling work – and they have not talked to the founder – the bloke who knows what he is doing – since June.