Virgin Australia Holdings Limited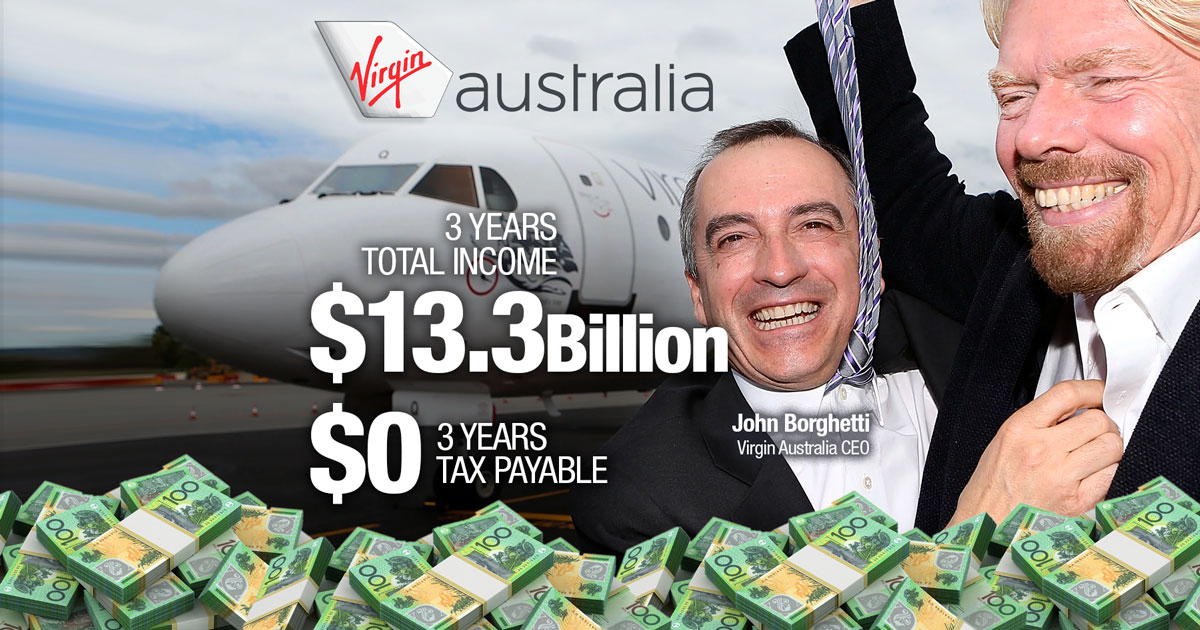 Virgin Australia Holdings Limited
How much Virgin founder Richard Branson and associates siphon from Australia in IP payments and so forth is not visible in Virgin Australia's accounts. This is a complex structure with foreign airlines as shareholders and partners in a complex global industry; ergo tax options. Virgin thinks tax is optional. Tigerair, which it controls, has its own tax group and "cannot foresee using" its tax losses. So Virgin is running a business it says may never make a profit. What is the point? Thanks to humungous tax losses,
Virgin still has $2.3 billion of future revenue
"sheltered" from tax, more than twice as much as Qantas with $951 million. Virgin says its tax losses have "no expiry date" so these high-fliers will be on this Tax Dodgers list for a long time to come.
Public support is vital so that this website can continue to investigate and publish stories that tell truth to power. Subscribe with a monthly contribution if you can, join our newsletter if you can not make a financial contribute, share and like posts.
METHODOLOGY
We are counting down the Top 40 Tax Dodgers. There are now three years of tax transparency data published by the Tax Office and we have used this data to work out which large companies operating in Australia have paid the least tax, or no tax.
Notable players such as Google, eBay, Booking.com, Expedia are not near the top of the ATO list. That's because they don't (yet) recognise income earned here; instead, they book Australian revenue directly to their associates offshore. They will be ranked in due course.
For other large corporations, and in particular, multinationals, the main steps in avoiding tax are made by reducing their taxable as much as they can; usually by sending it offshore in interest on loans, "service" fees or other payments to foreign associates. So, we have set a threshold. We have included only those companies which managed to wipe out 99.5 per cent or more of their taxable income over three years.
Qantas, therefore, is not on this list. Although it made $46 billion total income over the ATO's three years, it was able to reduce this by 99.4 per cent to $264 million, just missing our cut-off.
Taxable does not mean taxed. It paid zero.
The airline had made large losses which were offset against profits. Many large corporations which have paid zero tax in ATO data, have legitimately made losses and have therefore built up "tax-loss shelter".
Many others however, such as ExxonMobil and EnergyAustralia, are on the list as they managed to eliminate all or most of their taxable income by "debt-loading" or other means of aggressive tax avoidance.
In response to the censorship scandal which has engulfed the ABC in recent days as the government sought to muzzle its corporate tax coverage, the Tax Office put out a useful statement on its transparency data.
In this, the first iteration of michaelwest.com.au corporate tax rankings, we are going purely on the Tax Office data. We will also publish a list of Australia's better corporate taxpayers, those companies who contribute most to the country in which they operate.
The Tax Office data is by no means perfect. But sometimes we can identify patterns. In many cases, there are multiple entities with the same ultimate offshore parent reporting. One entity may pay zero tax, another may pay at the statutory 30 per cent rate (even if on low taxable income). We endeavour to be fair in our reporting to recognise these issues.
The data also recognises trusts as well as companies. For trusts, it is the members (investors) rather than the trust who are ordinarily required to pay the tax. In many cases however it is fair to recognise trust structures for what they are, as tax is often the main reason these vehicles have been structured as trusts.
Companies are welcome to debate their rankings or to touch base to clarify or defend their tax practices. We will append or link these submissions. UPDATED EXPLAINER.
MWM Methodology
Using both the ASIC and Australian Electoral Commission (AEC) databases we have conducted more than 5,000 searches and counting.
Through the ASIC searches we have been able to collate the necessary information for every company on the grandfathered list, ranging from company directors, shareholders (both persons and organisations), a company's auditor and much more. This has all been incorporated into our database, which is designed to map out these Dark Companies and tackle our driving question.
We also used the AEC database to generate an extensive list of political donations from these Dark Companies that date from the 1998-99 financial year to the present. We have designed a separate database for these figures, listing political donations from the entity itself, its directors and/or its shareholders. Each donation has been separated into recipient categories to better display the amounts funnelled to the Liberal and Labor parties and their constituencies.
The donations help indicate why the exemption, which ensures such a lack of transparency, has stood the test of time despite numerous attempts over the years from both sides of Parliament, the cross bench, the Greens, Treasury, corporate regulator ASIC and a joint parliamentary inquiry, which have all called for the exemption to be abolished. Both databases created by Michael West Media complement each other to bolster the narrative of the stories that follow.
In a similar approach to our Q.E.D. and Revolving Doors series, we will be releasing a profile each day that highlights directors of these Dark Companies, many of whom appear on the 2020 Australian Financial Review Rich List.
The 'Secret Rich List' project will provide considerable evidence to shore up the next attempt to repeal the grandfathering exemption, which Independent Senator Rex Patrick is scheduled to move before the Senate in early 2021.