If you have tears, prepare to shed them now. For there is a victim in these parts, a leviathan victim. Persecuted and forsaken, it is the Business Council of Australia, the collective which so ardently represents the world's biggest companies operating in Australia.
Imbibing the brackish waters of discontent, the BCA laments in an email to members that it has become "an easy target", languishing under the brunt of a "wave of populist policies". Its, gulp, "well resourced critics are seeking to capitalise on this and erode the reputation of business".
And so it is that the peak lobby group for big business, effectively the union of Australia's top 100 CEOs – the only union where members don't pay their own fees – has enlisted the support of #AfricanGangs Airwaves, yes, the Seven Network. In the cause of bringing the community together, BCA now counts Kerry Stokes' Seven West Media, Rupert Murdoch's Sky News and News Corporation, Qantas In-Flight Entertainment and Sky Racing as its media partners.
Snippet from the BCA's weekly update to members. Seven Network now a media partner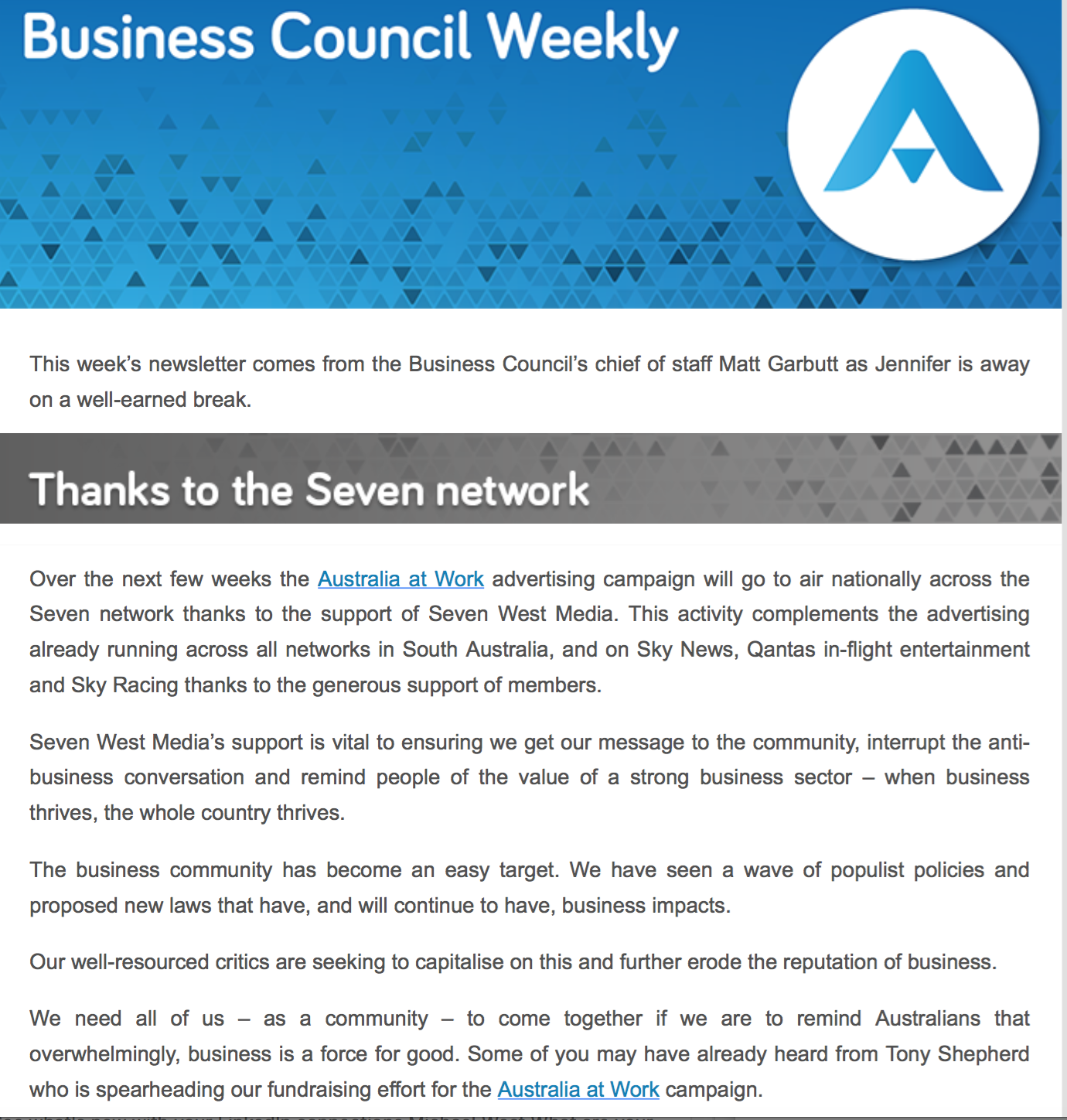 Lest you are deceived by the vile rodomontade of the BCA's "well resourced critics", lest you are complacent that the politics is won, that the hard-fought crusade for a $65 billion big business tax cut is behind us; lest you are assuaged that our corporate freedom-fighters have taken the hatchet to those iniquitous penalty rates for casual workers, this is not the hour for rest!
We are victims of an insidious, relentless, populist evil. We must struggle until corporate tax is no more, until we are taxing them! We must not rest until casual workers work for free, until the blessed cat-o'-nine-tails can once again be visited upon the unruly peons.
"Give sorrow words; the grief that does not speak knits up the o-er wrought heart and bids it break."
William Shakespeare. Macbeth.
Public support is vital so this website can continue to fund investigations and publish stories which speak truth to power. Please subscribe for the free newsletter, share stories on social media and, if you can afford it, tip in $5 a month.