Future shock: the electorates of Abbott, and Howard, and Rudd, and Turnbull …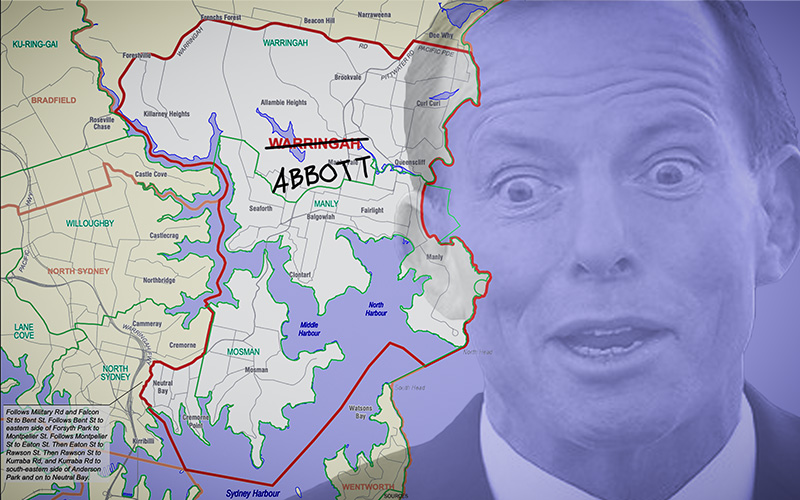 Every prime minister gets a federal electorate in his or her name. That doesn't sound too controversial until you think about some of the next batch being lined up. Mark Sawyer looks at the likelihood of the seat of Warringah one day becoming "Abbott" and some quirks of the name game.
The time: mid-century, thereabouts. Tony Abbott rises from the dead and once again lords it over the people of Warringah. His name supplants that lyrical appellation. A nightmare scenario for many of the voters who thought they saw the last of him in 2019.
There is no doubt that Abbott, as a former prime minister, will have a federal electorate named after him after he dies. If he didn't, a century-old tradition would be overturned. All but one of the 23 deceased PMs has had a seat named after him. It doesn't matter if he served 18 years, like Robert Menzies, or one week (Frank Forde).
The only exception is Joseph Cook, because James Cook got there first. He may yet make it. The Australian Electoral Commission (AEC) has been asked to consider making the name reflect both men.
Of course the honour will be bestowed on the other living former PMs: Turnbull, Rudd, Gillard, Howard and Keating. Probably when they die but not necessarily, as history has shown. Twice-serving PM Rudd will get only one electorate, as did multiple-serving PMs Deakin, Fisher and Menzies, though would anyone put it past the ever-modest Kevin 07 to offer his name for consideration in any second location the grateful people of Australia might deem appropriate?
Honouring the dead, the living, and the in-between
The custom of honouring former PMs with an electorate in their name was launched at the 1922 election when George Reid, the first PM to die, and Edmund Barton (the third) were honoured. Alfred Deakin had died in 1919 but was not recognised with an electorate until 1937. Deakin was a spiritualist and believer in unseen worlds, so perhaps the Australian political class wanted to be sure he wasn't coming back.
But being dead has not always been a criterion. PM No.3 – and Labor's first – Chris Watson was honoured in 1934, seven years before his death. Ditto conservative Stanley Bruce, in 1955, 12 years before his death. But there was a twist in the Watson saga. He was the first PM to lose his name on an electorate when the seat bearing his name was abolished in 1969. But wait – Watson came back in 1993, in a different part of Sydney. Deakin would have been proud.
The Federation House
The rules for naming an electorate after a PM are straightforward and idiosyncratic. For a start, the seat that the PM served as an MP is only incidental to the project. The most recent PMs honoured: Hawke (for 2022), Fraser (2019), Whitlam (2016) and Gorton (2004) did not serve the electorates that bear their names.
One reason for the above examples is that the Electoral Commission is loathe to change the names of Federation electorates (those proclaimed in 1901), which cuts out a big swathe of the House of Representatives when renamings are considered. While only 34 of the original 65 Federation electorates remain, they are likely to stay put. That means nearly a quarter of the House is no longer up for reconsideration.
The case of Fraser would be baffling if it was not considered that his electorate of Wannon was a Federation seat. Nonetheless, it would be difficult to imagine a less appropriate site for country squire John Malcolm Fraser than the gritty (though gentrifying) Labor heartland of Melbourne's west. You can almost hear Fraser's aggrieved tones: "Did somebody mishear 'Western District'?".
To add insult to injury, one of Fraser's neighbouring seats is named for John Gorton, who detested him. Maybe Fraser had been enough of a headache for the Electoral Commission, which had to strip the title from the seat of Fraser in the ACT.
Lost in the wilderness
But the case of Hawke
is
baffling. Carved out of the seats of Ballarat, Gorton and McEwen for the 2022 election, the electorate of Hawke is some distance from the inner-Melbourne seat of Wills that Hawke represented from 1980 to 1992.
He could have got Wills under AEC conventions. The seat was named after William Wills, third in command on the ill-fated 1860-61 expedition from Victoria to the Gulf of Carpentaria. The expedition commander, Robert Burke, was honoured with an electorate in 1949, the same year as Wills. But that electorate has been abolished – twice. Presumably abolition in 2004 was final.
Even the daddy of our white colonial explorers, James Cook, is not sacrosanct; the seat of Cook was abolished in 1955, and resurrected in 1969. But Burke's underling clings on. Hawke should have got Wills. Instead he got a new division created because of Victoria's growing population.
The Liberal member for Curtin and the Labor member for Fraser
The case of Fraser, held by the opposing party, illustrates another quirk of the system. Half of the 22 seats named for PMs are held by their historic antagonists. Labor holds Barton and McMahon (NSW); and Bruce, Deakin, Fraser, Gorton, Holt and McEwen (Victoria). And Labor has held Page and Reid (NSW) when in government.
The Liberals hold Fisher and Forde (both Queensland), and Curtin (WA). Curtin was named for a Labor hero, but has never been held by the ALP, which only just beat the Greens on primary votes in 2019.
Some of these cases are more quirky than others. Gorton, named for a Coalition PM, has been Labor since its proclamation in 2004. The seat is in western Melbourne while John Gorton represented Higgins in the city's more Liberal-friendly east. Meanwhile Higgins is turning Green or "community independent". But Gorton was a bit of a maverick.
Hughes has mirrored the behaviour of its party-hopping namesake Billy ("the Little Digger") Hughes. Proclaimed in 1955, the NSW seat was Labor until 1996, except for one term. The Liberals have held it since 1996, though current MP Craig Kelly defected to Clive Palmer's United Australia Party in 2021. Like W.M. Hughes himself, Hughes is an enigma.
And Hughes is not the only seat to honour a Labor turncoat. Lyons is named for Joseph (PM 1932-39) and his wife Enid, the first female member of the House of Representatives (1943-51). This is the only seat that salutes a prime ministerial spouse. Joe left Labor during the Depression and helped found the United Australia Party (a precursor to the Liberal Party and no relation to Kelly's party). The seat has been held by both parties in its 37-year history but for only nine years by the government of the day. It is now Labor.
But back to Warringah, err, Abbott?
When I began researching this article I thought there was no way Warringah could avoid being renamed in Abbott's honour. But it became clear that there is almost no prospect of Warringah being named after Abbott.
It's not because Warringah voters tired of their man, voting him out in 2019.
The reason is that the Electoral Commission also is loathe to change the names of seats with Aboriginal names.
AEC guidelines
 state: "Aboriginal names should be used where appropriate and as far as possible existing Aboriginal divisional names should be retained".
For this reason, Werriwa didn't become Whitlam, and Warringah won't become Abbott.
Not sharing the name of an explorer, Abbott will get his electorate. But where? Bradfield, which adjoins Warringah, would have to be high on the list of prospects, despite the high standing of its namesake, John Bradfield, the chief engineer of the Sydney Harbour Bridge.
Considering, however, that other PMs have been moved around the chessboard, is it possible Abbott could be shunted to western Sydney? After all, most of the 17 federal electorates that joined him in voting no to same-sex marriage in 2017 are there. Abbott might nestle up close to the seat of Chifley, named for a Labor PM for which Abbott has expressed admiration.
But no, predictions should be specific. My spirit guide Alfred Deakin predicts that the neighbouring electorate of Bradfield will one day become "Abbott". At least Bradfield will keep his freeway.
---
Author

Mark Sawyer

Mark Sawyer is a journalist with Michael West Media. He has extensive experience in print and digital media in Sydney, Melbourne and rural Australia.

Mark Sawyer is a journalist with Michael West Media. He has extensive experience in print and digital media in Sydney, Melbourne and rural Australia.