Smiles for Frydenberg and Birmingham, but not for those on JobSeeker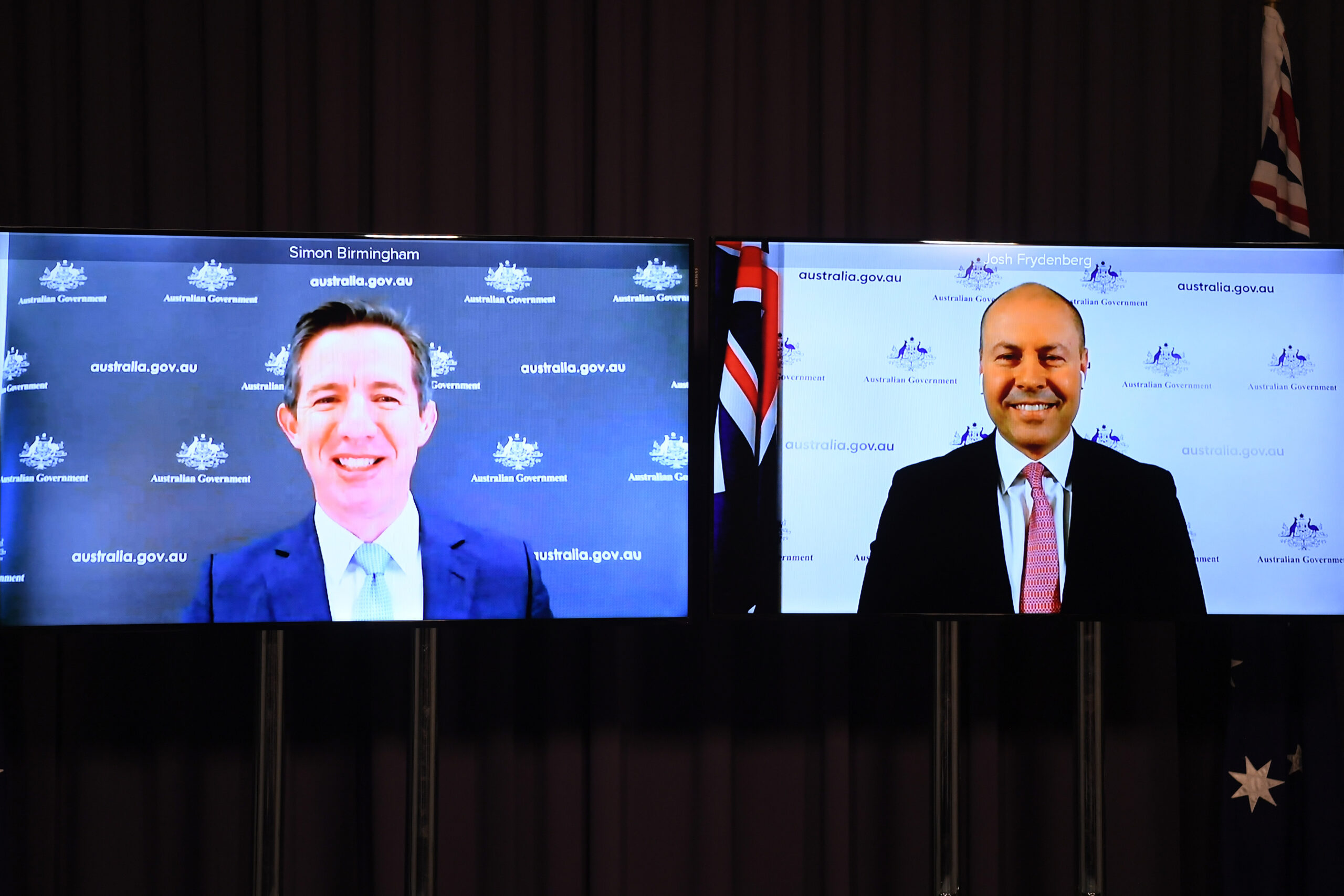 The punishment for Australia's lowest income workers continues with the announcement that Covid disaster payments will end once the states hit the vaccination goals laid out in the Doherty Institute's modelling. Dechlan Brennan reports on the outlook for those losing support.
Treasurer Josh Frydenberg has announced that the Federal Government will end the payments two weeks after any state hits the 80% double vaccination benchmark.
Forever claiming a focus on the economy – this despite the billions given away to large and profitable corporations via JobKeeper subsidies – Frydenberg said the Government had already spent $9 billion on disaster payments since the outbreak of the Delta variant in June.
Naturally they fail to mention one key reason for many of these lockdowns was because of the Federal Government's bungling of the vaccination rollout. Australia is sitting 33rd out of 38 countries in the vaccination rates of OECD countries, according to Covidlive data.
Nor did he mention the Government's refusal to chase up companies who recorded a profit last year after receiving Jobkeeper payments and have refused to pay the money back.
Services Australia shows that 2.16 million people have received at least one disaster payment during the Pandemic, with more than a million people in NSW alone. Frydenberg seems to think that's enough:
…the winding down of the Covid disaster payment will provide businesses and households with the certainty they need to plan for the future.

Josh Frydenberg
This is a narrow view from a Government which consistently ignores the lowest income recipients in the country. What certainty is there for households who have lost their jobs or who have been stood down and are unlikely to go back to full pay even when the 80% vaccination rate is hit?
The Doherty Institute modelling on which the Federal Government has based its re-opening plan, specifically mentions that targeted lockdowns would still be a likely option even after the 80% vaccination rate is reached.
In response, the Treasurer offered the option that people could always go on Centrelink to tide them over. This is the JobSeeker payment that is currently second lowest in OECD and below the poverty line.
It is also a payment that takes time to process. For people living week to week, transferring from a disaster payment to Jobseeker is an awful reality likely to be inflicted on many in the coming weeks.
Yet, speaking on ABC News Breakfast, Finance Minister Simon Birmingham spruiked the economic strength of Australia before the Delta outbreak, where unemployment was "at record lows". Implying that Australia would simply go back to everything being great again.
What the Minister didn't mention was that underemployment for the month of August sat at 9.3%. This is measured by anyone who has even one hour a fortnight of work. A further 146,000 people left the workforce altogether in August – likely reflecting their disillusionment with the prospect of ever finding work.
Birmingham declined of course to highlight youth unemployment which is now at 10.7%.
When it comes to students and Youth Allowance recipients, casual work is the lifeblood of survival. This workforce is often the first to be stood down in any downturn, and the likelihood that they will all be back in a job immediately when restrictions lift, is fanciful.
Both types of recipients can only work a small number of hours a week before their payments are reduced. It is a tightrope of planning each week which involves the flexibility of their employer.
Without work, the cost of living is simply too high. But if they work too much, they lose their Government assistance and struggle to maintain a full class load. On the former point, these casual workers will find it increasingly difficult to go back to work for employers who are still reeling from the Delta lockdowns in Australia's two major cities as well as its capital.
In August, Senator Birmingham stated that "we are not about to walk away from them" when pressed about the economic hardships that would come from targeted lockdowns.
If he means that the Government will still provide mediocre payments to people from Services Australia, the Senator is right. But no other support programs have been announced at this stage.
Australia is a rich country which has survived the pandemic well. But the impact of the pandemic will continue to be felt for a long time, including the economic hardship experienced by so many people. Covid subsidy payments have been an integral part of the support available. There may be room for adjustments, but cutting it based only on reaching the vaccination targets is not just short term politics, it is cruel and unnecessary.
---