It seems nobody has picked up the "fake cash splash" angle on Tuesday's Budget, that is, Treasurer Josh Frydenberg's trick of including last year's tax relief to fatten this year's numbers.
Low income earners really got a boost of $55, not $255, as $200 has already been legislated. Seems everybody is bandying about the wrong numbers but it hardly matters as the Budget is now academic; just a PR splash, an advertising caper, a campaign tactic.
In any case, to borrow the vernacular of a poker game, Bill Shorten has told Scott Morrison and Josh Frydenberg, "We'll see you and raise you". It's a no-brainer because – and this is perhaps why the Treasurer was looking so uncomfortable watching Shorten from the other side of the Chamber last night – he doesn't get another play. The Treasurer went first.
The pointy-headed people in Bowen's office must have thought, as the media missed it, we'll just forget about that double counting and chuck $95 for low income earners on top; trump the government's $55. See you and raise you.
So, it was another busy night for LAMITO. Again, the "quiet offset" was giving the four well known tax brackets an extra tweak. And as it did, it raised the tax-free threshold again:
Today (i.e. before any change): tax-free threshold – $21,595
Frydenberg's bid: tax-free threshold – $21,885
Shorten's counter offer: tax-free threshold – $22,385
Look Over There! How Josh Frydenberg's Budget tricked the media
Labor added another $95 to LAMITO, on top of the extra $55 the government offered the voters yesterday (for those under $37,000). The extra $95 does not look that much but, as we can see, it lifts the tax-free threshold $500 higher than the government and cumulatively Labor is adding $790 to the tax-free threshold, compared with today.
Who will like this? Apart from low wage earners? Franking credit recipients who don't have SMSFs; that's who! Anyone receiving fully franked dividends between $15,670 and $25,900 has enough supplementary franking credits to get the full benefit of the increased threshold and the $150 which Frydenberg and Shorten cumulatively provide.
Not much, but it's the same as everyone else. And it's the dividends on a fully franked share portfolio of between $250,000 and $400,000. That's a "low income" generating asset.
Here's the detail:
before this budget (ie. .today): LAMITO starts at $37,000; and fades in, till it sits at $530 between $48,000 and $90,000 and then fades away to zero by $125,333.
Frydenberg's bid: LAMITO adds $55 flat for those under $37,000 (that was new), and then fades in, till it sits at $1080 (only $550 of that is new) between $48,000 and $90,000 then it fades away to zero by $126,000.
Shorten's counter-offers: an extra $95 up to $37,000: so that LAMITO gives a $150 flat up to $37,000; then he copies Frydenberg.
One effect is that Shorten has given more, so he has to take back more – from $37,000 onwards. He needs to take back more so that he can stop at $1080. Result: Shorten's marginal rate is higher than Frydenberg's between $37,000 and $48,000.
This how the marginal rates look: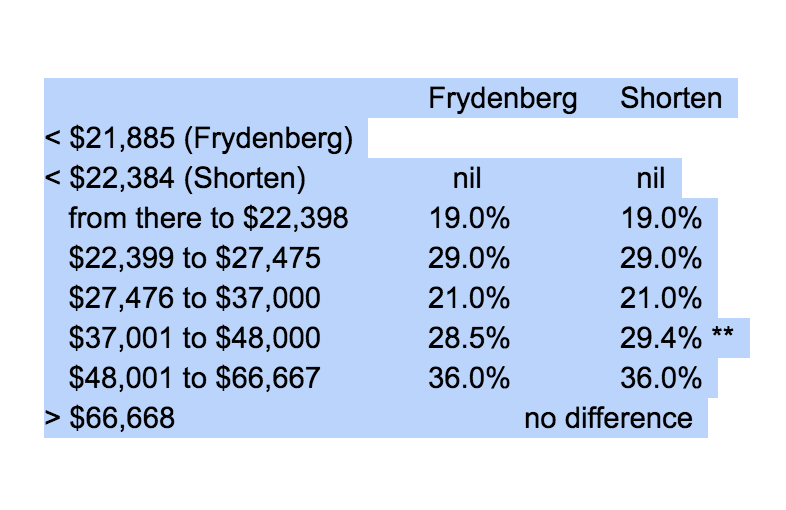 Bear in mind, your marginal rate is the tax take on your next dollar. The 29.0 per cent is due to Medicare still fading in rather brutally.
For the methodology see story one.
The Facts of Life: Qantas, the CBA and the Franking Credits Factory
Public support is vital so this website can continue to fund investigations and publish stories which speak truth to power. Please subscribe for the free newsletter, share stories on social media and, if you can afford it, tip in $5 a month.