Regional dams for drought-proofing or mining profits?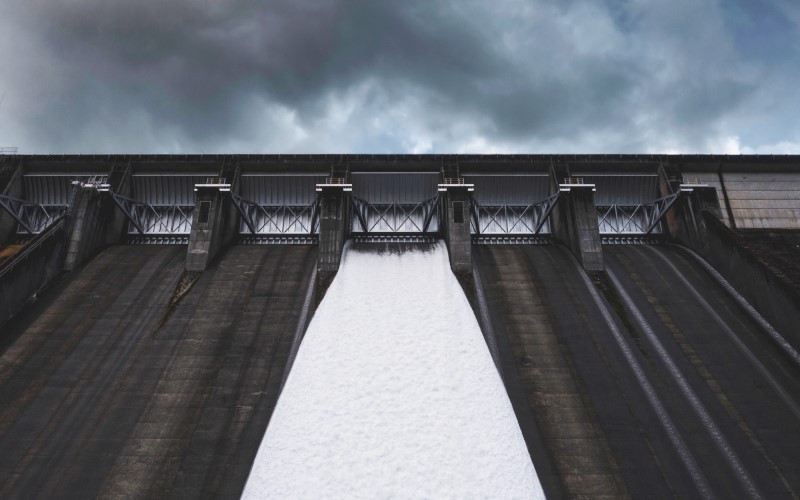 Water infrastructure projects are being fast-tracked in NSW, ostensibly to drought-proof communities. But concerns are growing that this is a cover story to allow more water-guzzling mining operations to develop and expand, with taxpayers footing the bill. Troy Walsh reports.
The raising of the Wyangala dam wall near Cowra is the centrepiece of the NSW government's water infrastructure plans.
Thanks to its classification as Critical State Significant Infrastructure, the project has been fast-tracked. Preliminary works have begun without either a business case or an environmental impact assessment for a project that is expected to capture a combined 770 gigalitres from the Murray-Darling basin. And without a business case, there is no final cost for the project. Taxpayers are already on the hook for $1.5 billion, with the costs having blown out from an initial $650 million.
The Wyangala Dam wall raising was announced in October last year. Other planned water projects including building a new dam at Dungowan, near Tamworth, an upgrade of Gin Gin Weir, west of Dubbo in the Macquarie Valley, and the construction of a dam at Mole River near the Queensland border.
While NSW's Water Minister Melinda Pavey says the Wyangala Dam project centred on providing security for town water supplies, Maryanne Slattery, a water expert and former director with the Murray-Darling Basin Authority, said it was "quite disingenous to be talking about town water security when in the Lachlan Valley, for example, a really major consumer of water is gold mining".
At the first public hearing of the NSW parliamentary committee looking into the justification for building and expanding dams in rural NSW, Slattery, now director of water consultancy firm Slattery and Johnson, said:
You really have to look at the gold mines in that valley and their water needs and their plans for expansion. It seems to be code to be talking about town water supply and industry, when really it seems to be about water for mining."
Meanwhile, just over the hills from Wyangala in the Belubula River Catchment area, which feeds the Kalari River, the NSW Government announced in November last year $1 million to complete a feasibility study to extend Lake Rowlands, either by raising the height of the lake's wall or to build a bigger dam downstream. Also under way is a plan for a pipeline between Lake Rowlands Dam and Carcoar Dam.
While the funding was billed as part of the government's emergency response to the drought in regional NSW, the general manager for Central Tablelands Water Gavin Rhodes told the local newspaper:
It will also allow us to increase industry and growth in the region."
Plans are also sitting there for at least one gold mine in this area – Regis Resources' McPhillamys Project. The company spent a lot of money trying to get Bathurst Council to supply them with wastewater but that fell over around 2016. The council decided the water was too precious and it should be recycled and kept for the town and the Macquarie River. It turned out a prescient decision when drought hit and Bathurst locals started worrying about where they were even going to get drinking water.
Regis Resources next plan was to build a pipeline to access the wastewater from a coal mine near Lithgow. While the pipeline hasn't yet eventuated it has moved beyond the concept stage. The company's contingency plan, as outlined on its website, is to use its own groundwater licence allocation from the Upper Lachlan area.
Then there is a Clean TeQ Sunrise mine project next to the Kalari River, which was approved in 2001. Originally mining cobalt and nickel, its scope was amended in 2017 to include scandium, which is used to make mobile phones.
The 2001 hydrology report said the mine could deplete the aquifer during the extraction period and need a further 20-25% of the groundwater that had already been allocated in the management area.
The region has suffered two record-breaking droughts during the mine's operation, and there was no mention of the effects of climate change in its 2017 report to expand operations.
Pandemic 'a smokescreen' to ram through controversial mining projects like Santos gas in Narrabri
Further down the river at Evolution's Lake Cowal gold operation, the struggles of the Wiradjuri people in 2004 against the gold mine and its use of cyanide was another horrendous period for the First Nations people, whose objections and concerns were dismissed.
Barrick had slated the mine for closure mid 2019 but in 2015 sold it to Evolution Mining, which is pushing full-steam-ahead to keep it going. Under planned modifications to the mine, the company said extra water would be needed but it would not "exceed the approved extraction limits".
Meanwhile, the company proudly claims on its website: "Mining approval has been granted to 2032 and this long mine life provides a tremendous runway to capture additional upside."
In recent years the NSW Nationals were pushing the Needles Gap/Cranky Rock dams project to be built in the same area in Blayney. As then federal member for Calare John Cobb stated in 2015:
"I believe a dam of this magnitude will alleviate future droughts, improve agriculture and mining security and sustain their productivity."
The plans didn't stack up, mainly because they were going to destroy an environmentally important cave system.
Meanwhile, back at Wyangala Dam, landholders who stand to lose their most productive land should the dam wall be raised have a number of unanswered questions, including who stands to benefit from the project. And their consensus seems to be the corporate irrigators and mining companies, according to local reports.
The development of more mines, in conjunction with every forgotten infrastructure project dreamed up, are being pushed all over NSW, all over the country. The money generated from it all certainly flows somewhere.
Woodside leaves oil rig for taxpayers to clean up; is Exxon next in the Bass Strait?
---