"Possibly the most expensive crustaceans in history at roughly $4,000 per lobster". Qantas took a multi-million dollar hit to its bottom line as it engaged in a drawn-out contractual battle with its Macau freight partner, JetFast Limited, a company which had financial backing from the son of an accused Triad kingpin. Michael Sainsbury reports.
Following revelations by michaelwest.com.au that Qantas had entered into a failed agreement with a company that had apparent triad connections, a spokesperson for the airline initially said it had "walked away" from a contract to make at least 52 return cargo flights between Sydney and Macau each year.
Qantas asserted it lost no money on the deal because the flights were pre-paid, painting its failed entry to the gambling hub as no big deal. These assertions were made despite the October 2017 contract between Qantas and its Macau partners (obtained by michaelwest.com.au) clearly stating this was a 12-month charter agreement.
The projected Qantas revenue from the deal, based on the minimum number of flights agreed in the contract, was to be $14.7 million. In the end, the airline only collected around $2 million.
Despite Qantas claims to the contrary, there was a significant loss. Clause 10 of its contract clearly set out penalties should the agreement be terminated without just cause. Those penalties amounted to just over $5 million. Qantas recouped part of that by claiming a $US500,000 bank guarantee put up by JetFast. However, the balance remained unpaid leaving Qantas $4.28 million short on the deal — and unable to re-route its aircraft, thus forgoing several million dollars in potential charter revenue.
Rather than "walk away", quite the opposite happened with the Australian airline spending at least six months trying to enforce the contract — something to which Qantas later admitted.
In correspondence between Qantas and JetFast obtained by michaelwest.com.au, one learns that, JetFast founder and CEO, Reuben Milne, wrote to Qantas on 13 March 2018 notifying it of JetFast's intentions to suspend its charter flights.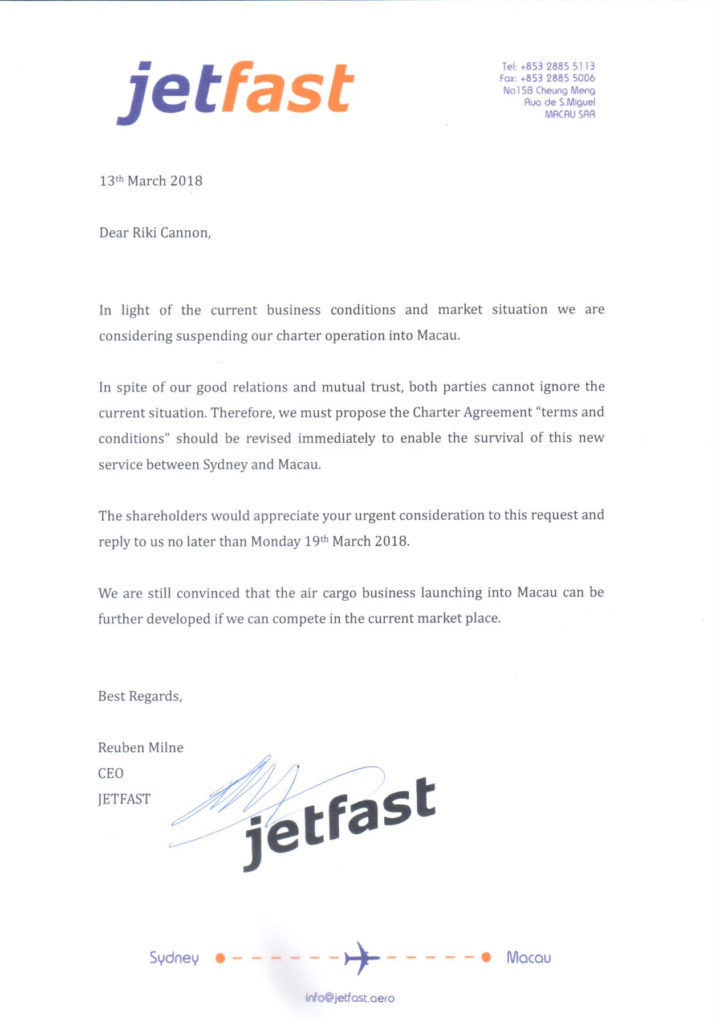 On April 4, Qantas Margin Head of Network at Qantas Airways Limited, Riki Cannon, responded offering a small cost adjustment to three of the 52 flights covered by the deal. However, Qantas insisted that the entire contract must be paid out over the full 12-month term.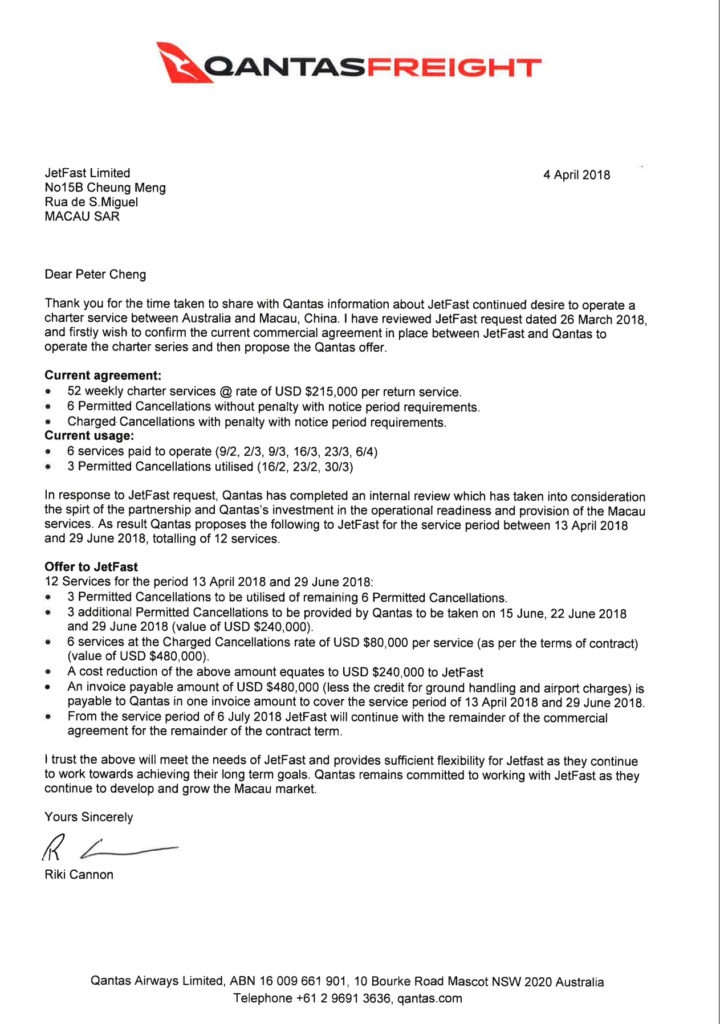 On March 16, Milne wrote to JetFast lawyers seeking advice on how to get out of the Qantas deal. The lawyer responded by saying there was no way out without paying Qantas compensation.
Milne was advised:
"JetFast may also terminate the Agreement without just cause, then the compensation to Qantas, paid by Jetfast, regulated on Clause 10.3 of the Agreement."
"In the case where JetFast fails to pay compensation, Qantas may file a decision (in the Australian courts) against JetFast. And JetFast may need to repay the compensation with the assets of the company."
Milne/JetFast's clear legal advice was that they owed Qantas money if they cancelled the deal and that it was an amount that left JetFast directors open to legal action from Qantas but Qantas said it has not taken the matter any further.
With their air cargo plans in apparent free fall, JetFast requested Qantas executives sit down and meet on March 19, 2018. That meeting did not go ahead. At this point the negative tone of negotiations between the parties escalated.
In April, Qantas emailed JetFast's financial controller reminding its Macau partner that a payment of $US393,732.86 was past due. The invoice terms were for "immediate" payment and the amount payable was for the cancellation of six flights.
On April 24, 2018, JetFast directors wrote to Qantas directly accusing the airline of deceiving JetFast during contract negotiations. JetFast alleged that "significant misleading market information was given by QF (Head of Business Development and Asia Freight) before the contract was signed." It went on to state that JetFast signed its agreement based on "completely misleading" information supplied by Qantas.
JetFast also put Qantas on notice pointing out that the airline had on numerous occasions referred to JetFast in writing as a "partner" and that the airline was not displaying the "spirit of a partner".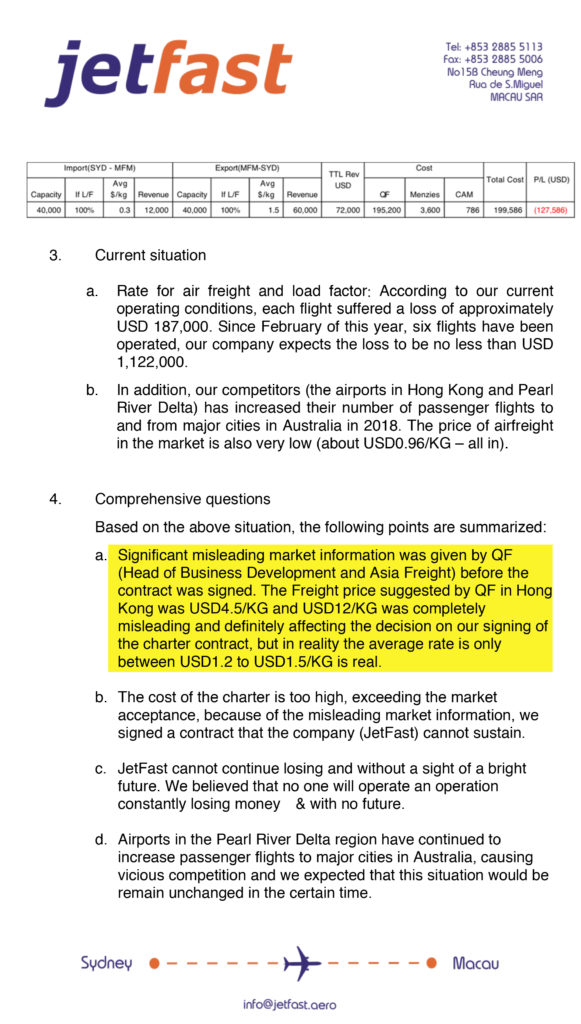 In this letter, JetFast put it to Qantas that it was paying a charter cost of $US2.50 per kilogram of cargo, when the average market rate for freight between Hong Kong and Sydney was US$1.20, and the return freight cost from Sydney to Hong Kong was a paltry $US0.30 per kilogram.
JetFast argued that if it filled the entire Boeing 767-300F aircraft to 100 per cent of its capacity, the Qantas asking price would see it lose $US127,000 per return flight.
The payload of the aircraft is 40,000kg and the final JetFast flight to Macau delivered just 100kg of cargo, mostly made up of live lobsters. These work out to be possibly the most expensive crustaceans in history at roughly $4,000 per lobster.
Following the ill-fated final flight, Qantas was forced to park its solitary 767-300F on the tarmac at Sydney's Mascot Airport from 3:00pm every Friday until 5:00pm Saturday for at least five months. Even though JetFast had failed to pay Qantas, the terms of its charter agreement dictated that Qantas was unable to re-route the aircraft. Had it done so, it would have been in breach of the Agreement, thus limiting its ability to legally recoup its losses from JetFast.
Qantas had previously explained that its Freight aircraft are in almost constant use. Analysts say this is to maximise their profitability. There is pictorial evidence of the 767-300F parked overnight at Mascot Airport on 28 September 2018, meaning it sat idle for 24 hours each week for at least five months.
By this stage, JetFast founder, Reuben Milne, had been sidelined by his investors and was not believed to be in correspondence with Qantas. Sources familiar with the failed business say Lai Pak Leng, also known as Parry Lai, shareholder and the cargo company's chief financial backer, had cut his losses.
He owns property development company, Parry Group, which last year achieved a record for the highest price ever achieved by a new residential development in Macau. JetFast CEO Reuben Milne worked out of Lai's Parry Group office, while the Chief Financial Officer of Parry Group was also CFO of JetFast.
Lai is the son of Lai Tong Sang, reputed to be one of Macau's most powerful triad kingpins. The most serious of allegations against his father date back to a time when Lai Pak Leng was a child.
Milne fled Macau as the JetFast venture was in its dying days. He initially returned to Sydney but has been in hiding since December 2018, believed to be either in Australia or his native New Zealand.
The dispute with JetFast would have been all the more galling for Qantas' beleaguered freight division, as it was seeking to recover from an embarrassing string of fines from regulators both overseas and in Australia for a long running, price-fixing cartel with a phalanx of competitor airlines.
The 2007 price fixing bust by US authorities was related to behavior that took place from 1999-2006 on the watch of former chief executive and Crown Resorts director Geoff Dixon. It caught up six Qantas freight executives and saw one jailed for six months. It took almost a decade to play out with regulators in the US, EU, Canada and Australia all fining Qantas.
Since 2007, the airline has paid out more than $100 million in fines and legal settlements. The company says that there are no longer any legal actions resulting from the freight price-fixing scandal and that it has put systems in place to make sure the behavior is not repeated.
Public support is vital so this website can continue to fund investigations and publish stories which speak truth to power. Please subscribe for the free newsletter, share stories on social media and, if you can afford it, tip in $5 a month.