The company at the centre of the #Watergate scandal has availed itself of a cushy exemption from filing financial reports with the corporate regulator.
The upshot is that the public may never know what happens with any future profits from the sale of its water licences.
Via changes to its Class Order regime in 2017 the Australian Securities & Investments Commission (ASIC) literally changed the law to make it easier for companies like Eastern Australia Agriculture (EAA) to hide their financial statements from the public.
EAA is the company which received the record $80 million from a government water buy-back, a profit which made its way to EAA's parent company in the Cayman Islands which was founded by Energy Minister Angus Taylor.
ASIC searches show EAA filed a Form 384 with the regulator in July. The Relief Order granted by ASIC pertains to small companies controlled by a foreign company and allows EAA not to prepare and lodge financial statements:
"Notification Of Resol. By Directors Of A Small Pty Company Controlled By A Foreign Coy Which Is Not Part Of Large Group (384)".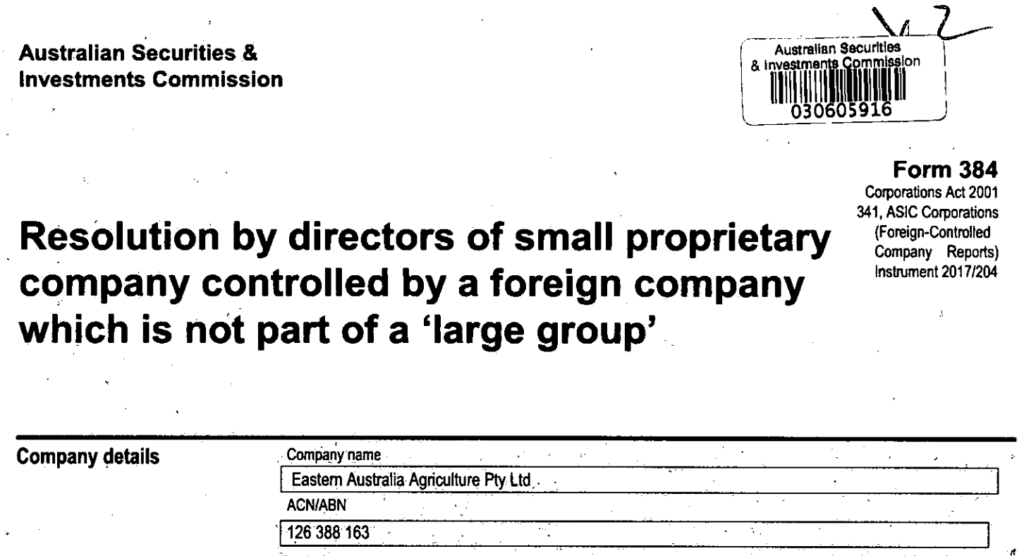 Section 292(2) of the Corporations Act requires a small proprietary company that is controlled by a foreign company (in this case EAI) to prepare an annual financial report unless the company is consolidated in other financial statements that are filed in Australia.
The most celebrated case of such an exemption is Facebook, which despite being one of the world's largest companies was granted relief from filing accounts on the basis that it was "Not Part of Large Group". This despite its market value at the time being $US172 billion.
In the case of EAA, its Cayman Islands parent company EAI is not nearly so large but the effect is the same; a company which once filed public accounts no longer files public accounts because it has been granted a special exemption.
In August 2017, $80 million was given to Eastern Australia Agriculture (EAA) for the acquisition of two Overflow (OFL) water licences at properties at Clyde and Kia Ora in southern Queensland.
This taxpayer-funded purchase delivered a windfall gain of at least $52 million for the benefit of Eastern Australia Irrigation (EAI), the parent company of EAA in the Caymans Island. The ultimate beneficiaries of this bonanza are unknown investors.
Barnaby Joyce had ministerial responsibility for the $80 million purchase through the Department of Agriculture and Water Resources (DAWR). Barnaby's colleague, Angus Taylor, is managerial alumni of both EAA and EAI. The various relationships of Angus Taylor with EAI and EAA on the public record are as follows:
It is not known why EAA was granted relief from disclosing its financial statements or if ASIC was lobbied to allow the exemption. ASIC reports to Financial Services minister Mathias Cormann and ultimately to the Treasurer Josh Frydenberg who was lobbied by Angus Taylor to change the environment laws.
The effect of the changes are to increase the arable land owned by a Taylor family company Jam Land, and land owned by other farmers in the area, which therefore increases the financial value of the land. Jam Land may also benefit if a proposed $1 billion compensation fund goes ahead.
We don't know why the Government made changes to its Class Order regime to make it easier for foreign-controlled companies to hide their activities in Australia. It has never been explained but the result is less disclosure, less visibility and less accountability.
Money for Jam Land: enviro review not as independent as it's Craik'ed up to be?