Allegations that pubs and clubs in NSW fuel poker machine gambling with free alcohol will not go away. How much free alcohol is flowing in the gaming rooms of NSW? The financial accounts of three large clubs in NSW suggest the practice of forking out free grog to gamblers may be more widespread than government has acknowledged. When regulators fail to do their job, disclosure is the answer. All clubs in NSW should be required to disclose their bar trading performance, revenue from beverages before and after the amount of free drinks served, and the dollar amount of loyalty points awarded for poker machine gambling. Michael West reports.
Gary Van Duinen tragedy
In 2018, Gary Van Duinen was found dead in bushland near Narrabeen Lakes after a 13-hour pokie playing bender that finished at the Dee Why RSL. Gary was a member of the Dee Why RSL Club's "Ambassador" program.
Gary was led to believe that he was a special high-ranking person at the Dee Why RSL. The more he gambled on the pokies, the more loyalty points he would receive, and the more he could convert his loyalty into alcohol to consume while tapping away at the machines. In other words, free alcohol for gambling on the pokies. Gary finally ended up paying for his free alcohol at the machines with his life.
Woolworths in pokies retreat
Last week Woolworths announced plans to spin off its poker machine business – with its drinks and hotels. Woolworths said the spin-off would simplify the group's organisational structure and allow it to concentrate on the core business of food retailing. The real reason though is that Woolworths' poker machine business in NSW hotels is toxic and embarrassing.
Woolworths' exploitation of the vulnerable, via its pokies business, was turning off grocery customers with each revelation of foul play. Recent allegations include two hotels under its control at Ballina and Tweed Heads fuelling gambling on poker machines using free alcohol.
ABC News reported, Liquor and Gaming NSW, lodged a complaint about the two Woolworths hotels with the NSW Independent Liquor and Gaming Authority. A spokesperson for Liquor and Gaming NSW noted: "it is the first time a disciplinary complaint of this nature had been made in NSW or, I understand, nationally".
It may be the first time for a disciplinary complaint but it is more likely the zillionth time there has been predatory behaviour by a hotel or club proprietor in a poker machine den.
The free booze betting indiscretions of the two Woolworths hotels could result in fines of $100,000 each but, in reality, this is a practice – loading up gamblers with free alcohol and food to keep them fixed at the screen – which is widespread and carried out with virtual impunity.
These potential fines represent a small cost of doing business where the business is to maximise poker machine profits. The Woolworths allegations will be tested. There will be a lot of noise from corporate spokespersons about internal reviews and improved systems. There may even be fines. Some low ranked employee will probably be offered up as a sacrificial lamb.
At the end of it all, however, normal service will resume. Hotels and clubs will exploit poker machine patrons using alcohol and the regulator will do what they have done before "the first time". Nothing.
NSW government regulation has failed and will continue to fail because the NSW government has other priorities. It makes too much money from poker machine taxes to care.
Pokie Profits Investigation: clubs put executive pay, the state and empire building before community service
In the absence of effective government regulation, disclosure is the answer. The information required for public consumption is how much free alcohol is flowing in the poker machine gaming rooms of NSW? It is time for the hotels and clubs to fess up.
An investigation by michaelwest.com.au shows the red flags are flying at full mast for alcohol-fuelled pokies betting in NSW clubland.
The Mounties
The numero uno club in NSW for poker machines – and bear in mind NSW is the biggest gambling state in the world and club pokies are the biggest gambling sector – is Mounties.
Table 1 shows Mounties bar profits and poker machine profits for the ten years to 2018. Compare the pattern over time in poker machine profits and bar profits. There appears to be a negative correlation.
Mounties used to make profits from bar sales back in 2009 and 2010. Since then, bar trading is down 353 per cent and poker machine profits are up 53 per cent. One explanation for this phenomenon is that the bar is being used to fund poker machine profits.
Mounties bar trading for 2018 is a loss of $2 million on sales of only $6 million. This equates to an average loss on every drink served of 33 per cent. There is a rank odour to this. Losing money selling alcohol to Australians in a tax-free environment stretches credulity.
Mounties' bar trading position indicates a lot deep discounting for drinks sold and/or a lot of free drinks. Unfortunately, Mounties does not disclose such things in its annual financial report.
So how much is it, Mounties? How many free drinks were served for 2018 in dollar terms? How many free drinks arose from the gambling rewards programs? How many free or heavily discounted drinks were served in the poker machine lounges?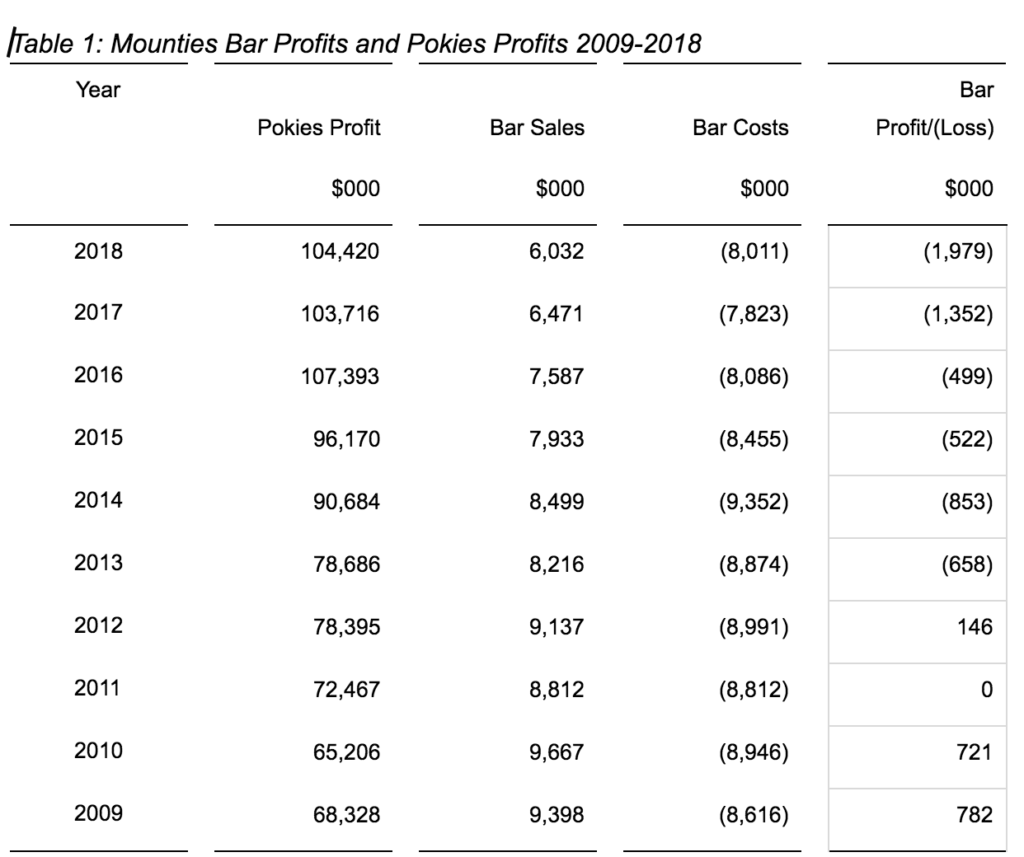 Canterbury and St Marys Leagues
In contrast to Mounties, the Canterbury League Club and St Marys Rugby League Club do make some disclosures about loyalty points issued for gaming and the service of free drinks.
Table 2 shows relevant data for 2017 and 2018.
Are the regulators at Liquor and Gaming NSW onto it? They responded to questions, the answers are appended below, but said they don't hold this information. Disclosure was up to the individual clubs themselves.
And what scant information is provided by the individual clubs – we analysed 25 of the state's biggest clubs – is just enough to figure out there appears to be a large problem.
Look at the loyalty points percentage in Table 2. The loyalty points for every dollar spent on gaming in 2018 has increased over 2017 for both clubs. The incentive to gamble for loyalty points and for free drinks is rising. Poker machine patrons are being increasingly incentivised with points and the promise of free alcohol to gamble on the poker machines.
Now look at the redemption of complimentary and discounted drinks percentage in Table 2. Nearly 40 per cent of revenue from beverages for 2018 of Canterbury League is for complimentary and discounted drinks. In effect, two out of five drinks at Canterbury are served for free.
Canterbury's complimentary and discounted drinks percentage is up eight percentage points on 2017 and nearly double that of St Mary League Club. Canterbury is increasingly serving more free booze than ever before and more than like clubs. Canterbury's membership increased by 2.5 per cent for 2018 but the complimentary and discounted drinks are up 23 per cent. What could possibly go wrong with that, Liquor and Gaming NSW?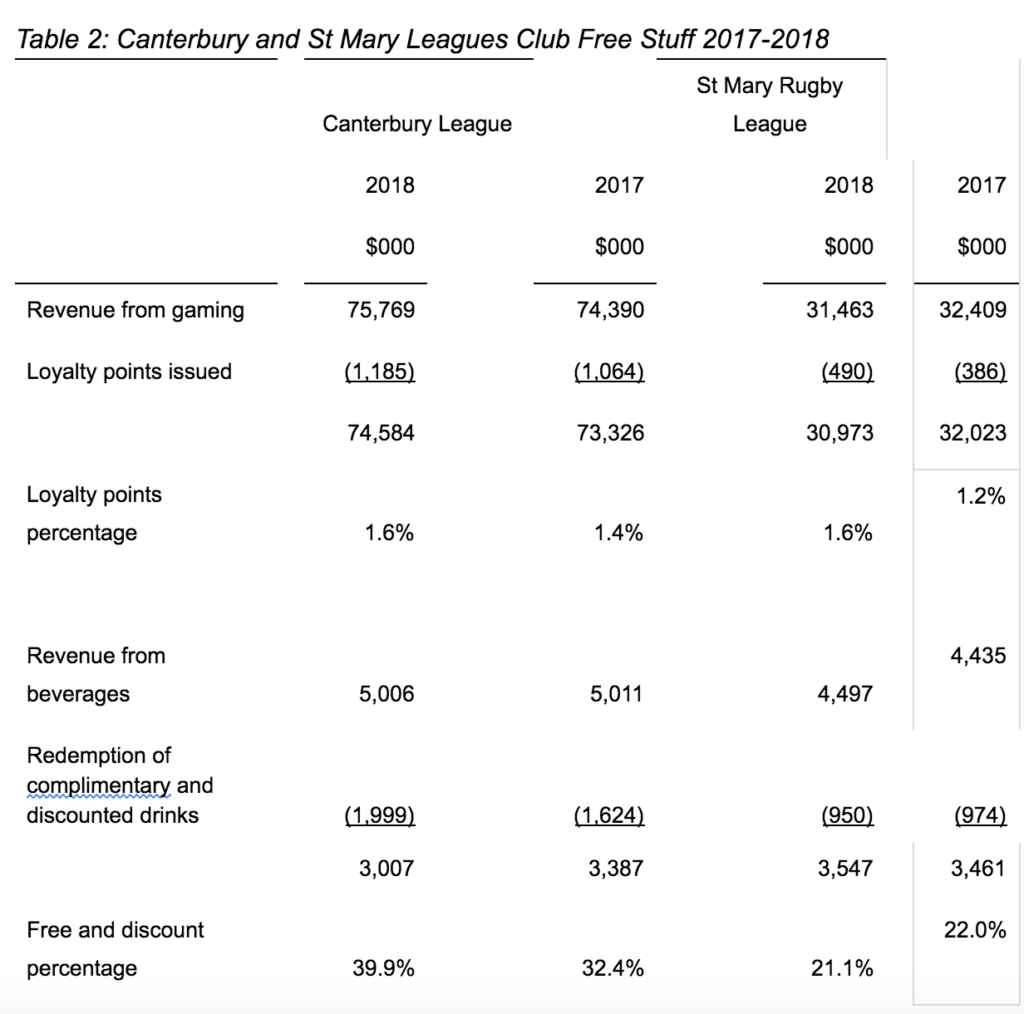 Other NSW clubs are hiding
Michaelwest.com.au is grateful to Mounties, Canterbury League and St Mary League for the disclosures made in their audited financial reports for 2018 relating to bar trading, loyalty points, and complimentary and discounted drinks.
The information conveyed by these disclosures is bad news but at least the information was made available. What is worse than bad news is bad behaviour that is concealed by no news. Another 22 large clubs in NSW disclosed nothing meaningful in their annual financial reports for 2018 about bar trading performance, loyalty points from gaming or the service of free and discounted drinks.
The non-disclosure shame file in alphabetical order is as follows:
Bankstown District Sports Club Limited
Blacktown Workers Club Limited
Cabra-Vale Ex-Active Servicemen's Club Limited
Campbelltown Catholic Club Limited
Commercial Club (Albury) Ltd
Dee Why RSL Club Limited (the home away from home of Gary Van Duinen)
DOOLEYS Lidcombe Catholic Club Ltd
Liverpool Catholic Club Limited
Mingara Recreation Club Limited
Parramatta Leagues Club Limited
Penrith Rugby League Limited
Revesby Workers' Club Ltd
Rooty Hill RSL Club Limited
South Sydney Junior Rugby League Club Ltd
St George Leagues Club Limited
St Johns Park Bowling Club Ltd
Sutherland District Trade Union Club Ltd
Twin Towns Services Club Limited
Wentworth Leagues Club Limited
Western Suburbs League Club (Campbelltown) Limited
Western Suburbs Leagues Club Limited (Ashfield)
Western Suburbs (N'çle) Leagues Club Limited
The lack of disclosure by these 22 clubs means alcohol fuelled poker machine gambling in clubland is predominantly out of sight and out of mind for Liquor and Gaming NSW.
Conclusion
When regulators fail to do their job, disclosure is the answer. All clubs in NSW should be required to disclose:
bar trading performance;
revenue from beverages before and after the amount of complimentary and discounted drinks served;
any loyalty points accruing from poker machine gambling during the period.
In 2018/19, the Banking Royal Commission found despicable corporate behaviour and maladministration had occurred in four of Australia's largest institutions, right under the nose of doddering regulators.
Clubs and hotels in NSW are not immune from the pox of unbridled enthusiasm to extract more money from their pokies clientele. To paraphrase from Commissioner Kenneth Hayne's Report: too often the answer seems to be greed, the pursuit of short-term profit at the expense of basic standards of honesty. How else can serving free alcohol in poker machine lounges be explained?
The Australian government has dealt, in part, with bad management in the banking sector. One would hope the State government would wake up and deal with the bad management of clubs in NSW. If they are don't have the courage to do this, the least they could do is get information out into the public domain about bar trading, free alcohol, and gaming rewards programs.
———–
The following questions have been put to Liquor and Gaming NSW:
We have done a study of the financial statements of 25 top NSW clubs and free alcohol to fuel gambling appears rife. You can see this in the gap between those clubs (few) which disclose free drinks and those who don't – and those who are running their bar at a loss.
What is Liquor & Gaming doing to address this? Will Liquor & Gaming demand better disclosure so that at least there is visibility on the issue?
Does Liquor & Gaming have the following information, and if it does have this information, could you please share?
1. What is the bar trading performance of the clubs for FY2018?
2. What is the dollar amount of complimentary and discounted drinks served by NSW clubs for FY2018?
3. What is the dollar amount of any loyalty points awarded by clubs for poker machine gaming for FY2018?
4. What is the dollar amount of free drinks served by clubs as result of loyalty points from gaming for FY2018?
Response from Liquor & Gaming
Liquor & Gaming NSW does not hold the data requested.
It is commercial data which individual clubs are likely to have.
Liquor & Gaming NSW has identified responsible conduct of gaming as a regulatory priority and is targeting clubs and hotels alleged to have provided free alcohol as an inducement to play gaming machines.
As a result of a Liquor & Gaming NSW investigation, two ALH-run hotels on the NSW North Coast are facing disciplinary action for allegedly offering free alcohol as an inducement to gamble. More details at this link.
This investigation and accompanying corporate search charges have been funded by the Alliance for Gambling Reform, which included the retention of an accounting specialist.
Public support is vital so this website can continue to fund investigations and publish stories which speak truth to power. Please subscribe for the free newsletter, share stories on social media and, if you can afford it, tip in $5 a month.