ANZ chief Shayne Elliott has become the subject of a criminal prosecution. We regret, however, that this may not be quite the scoop that it sounds. For it is not the police who have brought the proceedings. Nor is there a DPP in sight.
Rather, the action against Shayne is a private prosecution brought by none other than Rod Culleton, the former senator for One Nation who once famously called on the High Court to give him a trial by jury.
Typically elitist as it is, the High Court declined. It "doesn't do" trials by the un-bewigged. So Rockin' Rod's petition to be heard by his peers fell on deaf ears. This all happened a couple of years ago when, fending off his usual crowd of clambering creditors, Rod was hauled before the High Court. The High Court had been asked to deliberate on his eligibility to sit in Parliament.
Rod no longer serves in Parliament, at least in the eyes of the Court.
A problem with standing
Is Shayne Elliott quaking in his boots at the prospect of being dragged before the courts under this inky cloud of criminal allegations by Rod? Unlikely.
As Rod Culleton is bankrupt, he would probably require the approval of his trustee in bankruptcy to issue criminal proceedings. In other words, Rod may not have "standing" to be running about bringing criminal actions as it is his trustee – in this instance Shaun Rowland, official trustee at the Australian Financial Security Authority – who is in control of his affairs.
Shaun, if you read this perhaps you could advise as to whether you have agreed to the action by Rod?
In any case, not only does Rod seem unperturbed by such minor legal impediments but he has also politely declined the court's determinations to have stood him down from the Senate.
If you look closely at the lower right hand corner the the accompanying document, you will see this notice of criminal prosecution is dated December 19 and appears to have been brought by "Duly elected public officer, Senator Rodney Culleton".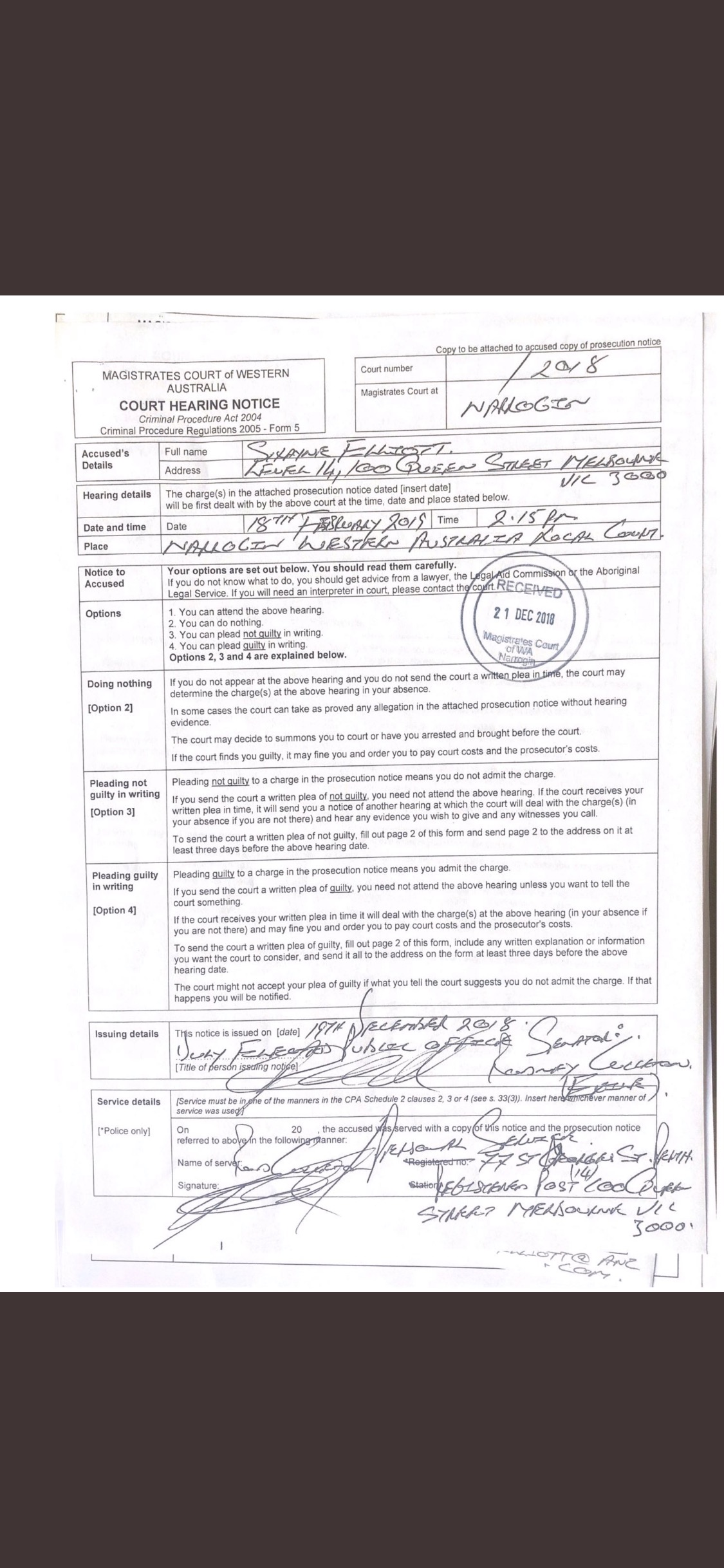 Rod might be accused of many things but not being indefatigable is not one of them (that's a triple negative so that's okay) .
Just below the "Senator" bit appears to be the word "exile" in brackets. As an exile, Rodney is in esteemed company. King David lived in exile, as did Themistocles, the Roman poet Ovid, Charles de Gaulle and the 14th Dalai Lama.
Now Rod, Senator in Exile.
The twist in this saga is that Rod owed the ANZ $4.3 million, or to be more precise, Rod had a judgement debt against him of $4.3 million from the ANZ Bank's trustee PCL. He also had a judgement debt against him of $203,000 by WA businessman Dick Lester.
Now Rod is going after the chief executive of ANZ. We don't exactly know what he is charging Shayne with but it is believed to relate to Landmark. Rod had a loan with Landmark when ANZ took over the Landmark loan book and sources say Rod is not happy at his treatment at the hands of the bank.
There has been some local press in recent days about private prosecutions.
"A number of Private Prosecutions were filed today against Mr Shayne Elliott in the Magistrates Court in the Upper Great Southern wheatbelt town of Narrogin, Western Australia.
"Mr Elliott, currently the ANZ Bank CEO, must attend the hearing on the 18th February 2019 to enter a plea on a number of filed actions – (Group actions)," said the story in one publication .
It will be interesting to see how ANZ handles the proceedings, set down for a local court in rural WA in February. Last time ANZ directors were served, and in that case the bank did have a case to answer and ended up settling with the Indian billionaire plaintiffs for a chunky sum, some of the bank's directors thought it was beneath their dignity to accept service of subpoenas.
Shayne Elliott is thought to be a bit more down to earth. The question is, what does Rod's trustee think of all this?
Public support is vital so this website can continue to fund investigations and publish stories which speak truth to power. Please subscribe for the free newsletter, share stories on social media and, if you can afford it, tip in $5 a month.