eBay base laid bare in court case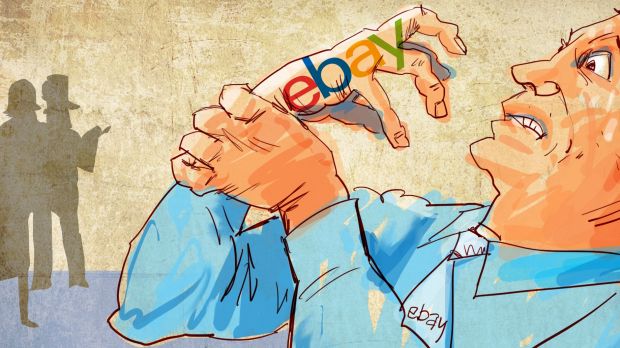 EBay's lawyers fired off an email to Westpac last February. Its attachments were titled "Project Claw – Freezing Orders".
The subject of these freezing orders – also the targets of the sinister "Project Claw" – are Glen Gaunt and Dana Joab, a couple who used to work at eBay and whom eBay is now suing.
It has been a brutal campaign of legal intimidation yet, in a delightful irony for taxpayers, the claw has now turned on its multinational masterminds.
One of the plaintiffs in eBay's case is eBay International Advertising Gmbh. This is the destination for all the revenue eBay makes from its ad sales in Australia. The transaction revenue, from people buying and selling on eBay, goes to eBay International AG, same address in Switzerland.
The rub for eBay and its lawyers, Norton Rose Fulbright, is that the affidavits admitted into court for their case against Gaunt and Joab raise questions about its own tax affairs.
eBay is alleging breach of fiduciary duty by Gaunt, who was a sales manager with the company. But they can't decide to whom he actually owes this purported fiduciary duty.
Gaunt, like his colleagues, was employed by eBay Australia and New Zealand. Indeed all his costs appear to have been borne by this company. Yet the fruits of his labour were all booked, like those of his colleagues, straight to the Swiss entity.
Attention Australian Tax Office: is it legal to stuff all your costs into an Australian company while siphoning all your profits from exactly the same sales activities offshore?
Most multinationals do it – that is, bulk up their costs here so they don't make much of a profit, which can be taxed – but eBay is clumsily blatant.
In fact its overlords in Switzerland and the US must be wondering what those knucklehead Aussies are up to. They even account for GST in their pleadings when eBay doesn't even collect GST.
Moreover, in a burst of legal schizophrenia, eBay listed three plaintiffs in its lawsuit: eBay Australia and New Zealand Ltd, eBay International AG and eBay International Advertising GmbH (added later).
According to European company searches though, the Swiss entity (GmbH) was dissolved on May 5 this year, shortly after the process for discovery of documents was initiated by Gaunt and Joab.
Apart from random emails, the only things they have handed over so far is Glen Gaunt's scrambled hard drive. They are yet to stump up a single invoice from GmbH.
If you look at eBay's local accounts you will find a company which last year paid just $381,641 in tax. It disclosed revenues of $39.7 million but the cash-flow statement shows $43 million in receipts from related parties. So some other eBay entity must be sending this downunder as the real revenue is booked overseas.
In 2012 and before eBay doesn't list its cash receipts as related party which suggests they either booked some sales here or hid the related party stuff.
Champion litigator
While its accounts and its statutory disclosures are a shambles, eBay has proven a champion performer when it comes to vexatious litigation.
eBay alleges Gaunt and Joab took sales commissions to which they were not entitled. Gaunt was a sales manager and Joab an external contractor with the online auction house. They say the claim is bogus and they are victims of a campaign of victimisation.
Project Claw appears to be eBay's campaign to "claw" back money they allege is owed them. And to that end, they succeeded in having all Gaunt and Joab's assets frozen.
Although Dana Joab was a life-long customer of Westpac and was locked in litigation with eBay, Westpac – in gross breach of her privacy – provided her court-room adversaries with a plethora of documents which were not covered by the subpoenas, at least 25 by our count.
Worse, Joab was just about to give birth to her third child when her assets were frozen and despite the fact that there was no stipulation in the orders as to how she could withdraw money, she was forced – against doctor's orders – to drive to her local branch to get money out.
Her requests to withdraw money online, even to pay bills, were spurned by eBay and its lawyers and met with a legal threat from Westpac's lawyers, Gadens. So it was that, with her new baby just days old and two other young children in tow, fresh out of hospital after a C-Section operation, she had to drive to the Westpac branch in Leichhardt  in Sydney to get money. The refusal to even allow her telephone banking persists to this day.
Westpac has previously told Fairfax Media that although the court orders did not stipulate physical attendance at the bank branch, it had not acted in breach of the orders. Further, despite the myriad breaches of Joab's privacy in providing information outside the scope of the subpoenas, it described its failure to comply as "inadvertent". Westpac says it apologised to Joab and eBay's solicitors destroyed the documents inadvertently produced at its request.
Ebay, Norton Rose and Westpac were unwilling to discuss Project Claw.
Westpac denies it has a relationship with eBay. It does concede however that it is banker to eBay's sister company PayPal. EBay and PayPal are undergoing a split in the US but they share office space in Sydney at 1 York Street and the same legal director.
Is there a deeper relationship still? Westpac declined to respond to questions as to whether it had a relationship with other eBay entities such as eBay International Advertising GmbH.
---