Blessed are the Litigants: Catholic backlash over cemeteries grab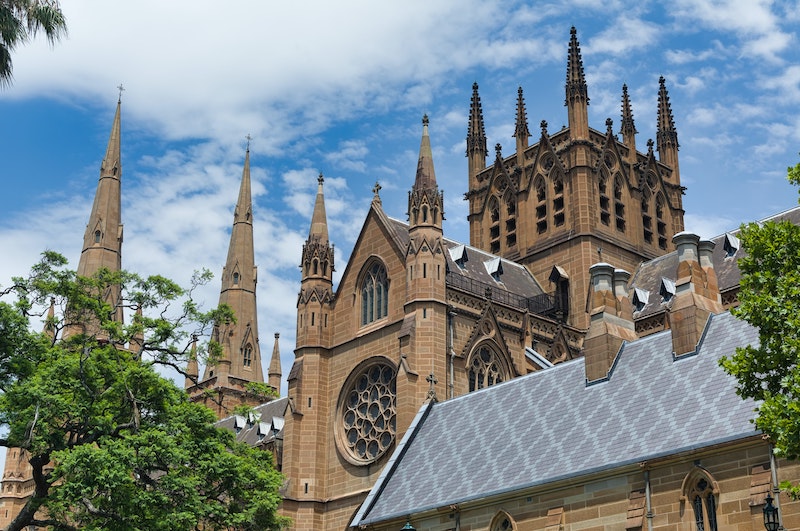 A PR man for Catholic Church has threatened Michael West Media with legal action for coverage of the battle for control of Sydney's cemeteries. Callum Foote evaluates the claims of the Catholic Metropolitan Cemeteries Trust and its crisis consultants.
The professional spinners have taken a couple of tacks against MWM's reporting on the state government's favourable treatment of the Catholic Church's cemetery arm amid efforts to shut down critical media coverage. It is understood that other media organisations have also come under pressure.
Following an investigation into the Catholic Church's push to take control of Sydney's Crown Cemeteries sector, a public relations person Tim Allerton has threatened legal action claiming "it's a load of bullshit".
But in our view, it's not a load of BS, not even a smidgen.
Tim Allerton, the founder of City Public Relations, claims that the investigation was a result of "faceless bureaucrats" attempting to "to sully the name of a non-profit organisation in the Catholic Metropolitan Cemeteries Trust (CMCT)".
The CMCT is facing dissolution after NSW government analysis determined that it was financially prudent to amalgamate the five Crown cemetery operators into a single, efficient land manager, OneCrown. In response, the Catholic Church has engaged in an extensive lobbying effort, using key Catholic members of the NSW cabinet to champion their cause and avoid being cut out of operating public cemetery assets.
Allerton said that the last-minute proposal which forwarded the Catholic position "contains financial modelling and followed exhaustive consultations with a range of faith groups". The proposal itself says otherwise.
Extract from the proposal developed at the request of Finance and Small Business Minister Damien Tudehope.
Allerton also says that Michael West Media's allegation that the proposal falls short of ICAC'S Direct Dealing Guidelines is false. The allegation was in fact made by staff at Investment NSW commenting on the last-minute submission, prepared at Tudehope's insistence.
Allerton forwarded advice the CMCT received regarding a June article published by The Daily Telegraph about the Catholic cemeteries bid. MWM has also learnt that the ABC has also been leaned on by the Catholic Church in response to their attempt to investigate the bid.
Allerton took offence at our assertion that control over hundreds of millions of government dollars is to be transferred into a Catholic-controlled company.
Under the Catholic proposal, the Catholic Metropolitan Cemeteries Trust is to be dissolved. In its place, the Catholic Metropolitan Cemeteries Land Manager (CMCLM) will be established to satisfy the requirement under the 2016 Crown Lands Management Act that all land managers be "controlled entities" under the government.
However, a company called Catholic Crematoria & Cemeteries (CCC) Ltd will be established underneath CMCLM which will be the ultimate beneficiary of control over $130 million in perpetual maintenance funds and hundreds of millions worth of cemetery assets as CMCLM delegates all operational powers to the Catholic-controlled company.
Allerton claimed that MWM was wrong in stating that the Catholic Church was seeking a 99-year lease with an option for 99 more for hundreds of millions of dollars' worth of cemetery assets.
However, in a letter of demands made to then deputy premier John Barilaro on June 9, the CMCT stated just that.
The letter was written demanding that Property Minister Melinda Pavey not appoint an administrator to the CMCT, as the CMCT was due to be abolished on July 1, 2021.
Tim Allerton, who is very active in corporate crisis consulting, correctly noted that MWM's claim that the Catholic Church would have paid the government $1 in return for the transfer of assets to satisfy a legal requirement was wrong. There is in fact no mention of even that tiny consideration whatsoever in the service agreement. The original article has been amended.
Allerton finished his correspondence by threatening legal action and that "although CMCT is non-profit, it could potentially suffer serious financial harm if your article continues to be published in its present form"
Despite Allerton's claims that the article "is just a load of bullshit", he was unable himself to refute any of MWM's counterclaims, instead promising that CEO Peter O'Meara would be able to respond.
Instead of O'Meara, it was Damian Furlong, the head of ''People, Risk + Advocacy'' at CMCT, who ended up on the phone.
Furlong took a different approach and claimed that the basis for the article, that the Crown Cemeteries sector is in trouble, was unjustified. According to Furlong, "​​the Catholics do not believe that there is any crisis which would require the amalgamation of the CMCT".
If it is proven that there is no crisis in the sector then there would be no need to amalgamate the CMCT into a larger operator which could pull the sector out of financial hardship.
He doth protest too much
Furlong went on to claim that the government operator, which is set to run out of space in nine to 12 years, could always just dip into the funds it has set aside to maintain graves to develop a new cemetery. These funds are known as perpetual maintenance funds.
The Independent Pricing and Regulatory Tribunal (IPART), Deloitte and the 11th Hour Report, a statutory review of the 2013 Cemeteries and Crematoria Act 2013, have all recommended a mandatory code of conduct in relation to perpetual maintenance funds to stop just this from happening.
These recommendations have been made to safeguard cemetery operators from spending perpetual maintenance funds on developing cemetery assets that won't be able to make enough profit to maintain their internment sites into the future.
Furlong and the CMCT have not been able to provide financial analysis or any independent expert opinion demonstrating that contrary to the 11th Hour Report, the Crown Cemeteries sector is not in trouble.
The modelling was undertaken for the 11th Hour Report, which shows that Crown Operators have an unfunded liability of approximately $300 million and won't be able to meet their perpetual care obligations and recommends a single operator as a way to cover this shortfall.
Furlong's second contention was that the Catholic Crown Operator should be allowed to remain in control of Sydney's most valuable cemetery assets, saying: "We're good to go, why should we be subsumed into another organisation which is not as good as we are?"
Furlong said that a report produced by IPART in November 2020 proves that the CMCT is "the best in the show".
However, according to the report the Northern Metropolitan Cemeteries Land Manager (NMCLM) far exceeds the CMCT in efficiency standards. The CMCT was found to be 23% inefficient, while the NMCLM operator was only 14% inefficient.
Moreover, Rookwood General was able to offer burial prices $300 below that of Rookwood Catholic, demonstrating that the Catholic operator could not offer a more efficient service given similar circumstances.
Tim Allerton and Damian Furlong have yet to respond to queries put to them by Michael West Media.
---
Author

Callum Foote

Callum Foote a journalist and Revolving Doors editor for Michael West Media. Callum has studied the impact of undue corporate influence over Australian policy decisions and the impact this has on popular interests. https://www.facebook.com/CallumFooteJourno https://twitter.com/CallumDRFoote

Callum Foote a journalist and Revolving Doors editor for Michael West Media. Callum has studied the impact of undue corporate influence over Australian policy decisions and the impact this has on popular interests. https://www.facebook.com/CallumFooteJourno https://twitter.com/CallumDRFoote