The "Battle for Narrabri" continues to rage under cover of Covid darkness. A new report on well data in the Pilliga Forest challenges claims by Santos that gas from its Narrabri Gas Project will be low on emissions. Anna Christie reports.
Santos has told its shareholders and regulators, in order to justify the Narrabri Gas Project, that the 850-well coal seam gas project represents a low‑carbon transitional fuel for New South Wales. The company says in its recent 2020 Climate Change Report:
"natural gas produces 50% less greenhouse gas emissions than coal when used to generate electricity".
However, a new report published by Coonabarabran-based community group North West Protection Advocacy reveals that when factoring in the previously unaccounted-for carbon dioxide emissions of the Narrabri gas project, Santos' claims are unable to be substantiated.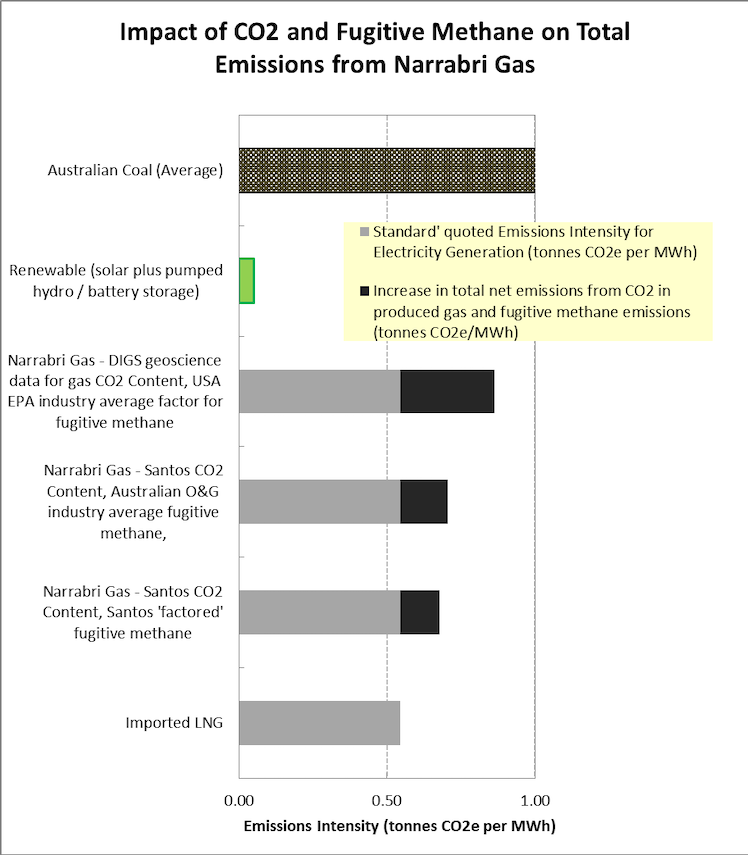 Claims by Santos that natural gas has 50% of the emissions intensity of coal rely on the assumption that there is no carbon dioxide (CO2) released to the atmosphere during the production of natural gas.  This is not the case with gas at Narrabri.
The North West Protection Advocacy report "Narrabri Gas Project: Greenhouse gas claims refuted" released this week calculates, using available data from wells in and around the Santos licences, that the average CO2 content in gas across the Narrabri project is 25-30%, with some wells displaying 90% CO2 . The high CO2 and nitrogen content is a factor which has the potential to materially increase the emissions from and the cost of production of the gas project.
In its Environmental Impact Statement (EIS), Santos says it "assumes" Narrabri gas contains an average of 10% CO2.
"Narrabri gas appears to have higher CO2 than Santos has assumed, increasing the emissions factor associated with its extraction", says Dr Andrew Grogan, an expert in gas industry capture and storage, who was engaged by North West Protection Advocacy to assess the well data.
"This calls into question the quality of the resource and the cost of developing it. Santos would need to extract and vent this CO2 in order to meet user and NSW pipeline requirements, and resulting in large greenhouse gas emissions due to the vented carbon dioxide."
Dr Grogan says,
"The implications of the high CO2 for Santos' greenhouse gas emissions and the project economics are significant. Examination of the data reveals in-ground CO2 averaging more than twice that assumed by the company in its EIS."

"For 70 petajoules of sales gas, in excess of one million tonnes per annum of carbon dioxide would be a by-product of coal seam gas production at the Narrabri Gas Project, if approved,"
High CO2 levels in coal seams of Narrabri-Pilliga Forest were publicly flagged by Whitehaven Coal in 2010. Whitehaven indicated in an Environmental Impact Assessment for its Narrabri coal mine that gas from the coal seam averaged 90% CO2 and 10% CH4.
"The fact that Whitehaven is venting 90% CO2 gas directly into the atmosphere from a coal seam at Narrabri Underground, and the knowledge that Santos is mining for gas in the same coal seam, was the impetus for us to analyse all publicly available Well Completion Reports with gas composition data on DIGS (geoscience.nsw), drilled and tested over a period between 1998 and 2014 from the Gunnedah Basin," says Johanna Evans of North West Protection Advocacy, member of the group's environmental team, who trawled through publicly available data on Gunnedah Basin CSG wells, across 26 wellbores in PEL 238. The data shows that high CO2 in the coal seam gas extends across much of the project area, and not just at the perimeter of the project area, as previously stated by Santos.
The conclusion, according to Dr Grogan, is that gas emissions at Narrabri will approach the level of coal emissions:
"Applying internationally accepted factors for fugitive methane emissions for gas production and taking into account the 25%-30% CO2 content, total greenhouse gas emissions from the actual production and use for electricity generation of gas in the coal seams at Narrabri would actually approach those of coal."
Figure 1: Reported C02 percentages in main coal seams PEL 238 (PPLA 13/ PPLA 14/ PPLA 16)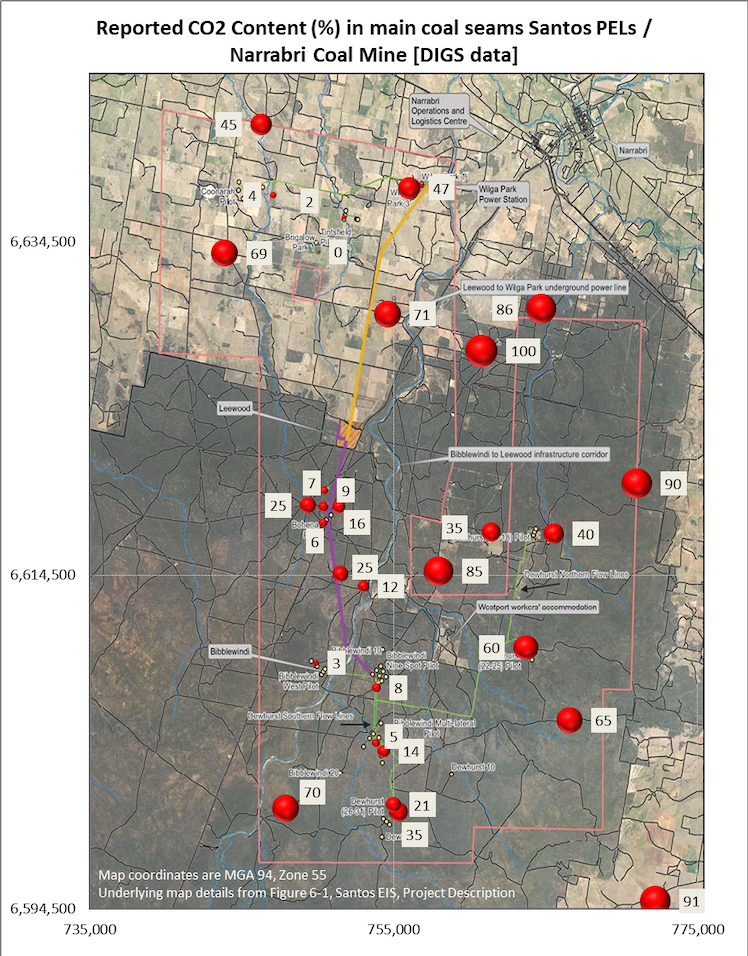 Figure 2: Reported concentrations of CO2 applied to Narrabri Gas Project area (in brown) showing that 60% CO2 is not unusual or unexpected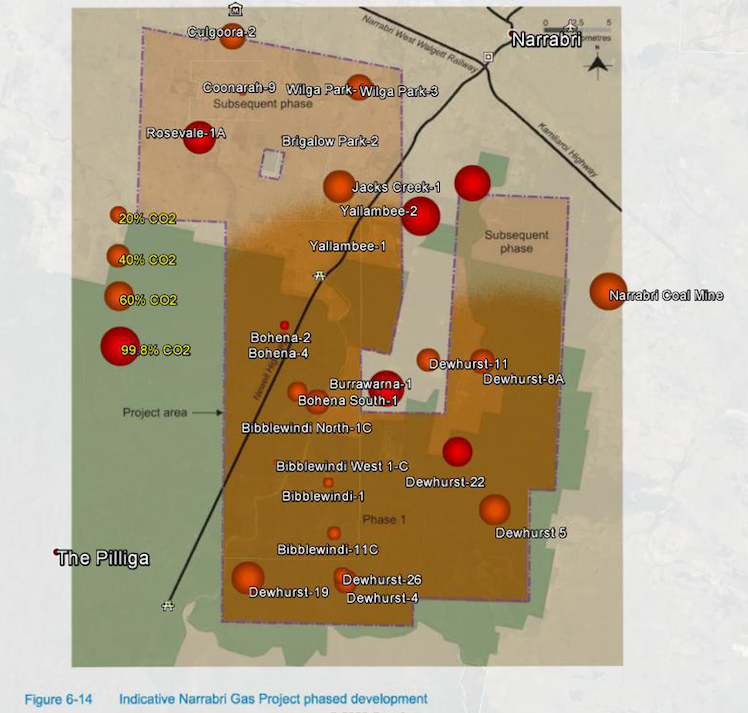 Santos says in its 2020 Climate Change Report that carbon capture and storage (CCS) is "critical technology to limit global temperature increases to well below 2 degrees Celsius".  Announcing the Moomba CCS venture, Santos CEO Kevin Gallagher referred to its purpose to sequester CO2 from the Moomba gas fields, with no reference to Narrabri.
There are no reservoirs near Narrabri that could be used to store CO2 and no economic way to transport it to Moomba. Narrabri CO2 would simply be vented into the atmosphere, contradicting claims that Narrabri gas is a clean transitional fuel to a low-carbon economy.
The Santos annual general meeting is tomorrow.
---
Editor's Note: The global gas glut has made the Narrabri project even more uneconomic given the high costs of fracking for gas.
Further reading: 'Santos blows $7 billion in five years and no relief for gas customers'
———————–