Bad deal, bad partner. Why Adani?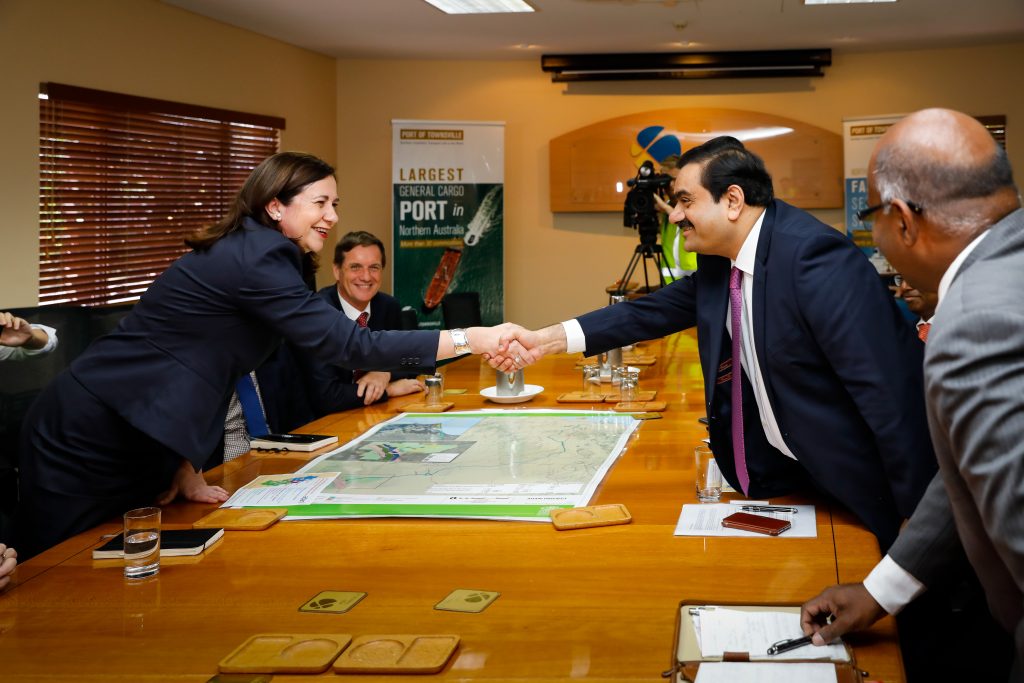 Why, if Adani's gigantic Carmichael coal project is so on-the-nose for the banks and so environmentally destructive, are the federal and Queensland governments so avid in their support of it?
Once again the absurdity of building the world's biggest new thermal coal mine was put in stark relief on Monday evening via an ABC Four Corners investigation, Digging into Adani.
---
Read more: Adani gives itself the green light, but that doesn't change the economics of coal
---
Where the ABC broke new ground was in exposing the sheer breadth of corruption by this Indian energy conglomerate. And its power too. The TV crew was detained and questioned in an Indian hotel for five hours by police.
It has long been the subject of high controversy that the Australian government, via the Northern Australia Infrastructure Facility (NAIF)that is still contemplating a A$1 billion subsidy for Adani's rail line, a proposal to freight the coal from the Galilee Basin to Adani's port at Abbot Point on the Great Barrier Reef.
But more alarming still, and Four Corners touched on this, is that the federal government is also considering using taxpayer money to finance the mine itself, not just the railway.
No investors in sight
As private banks have walked away from the project, the only way Carmichael can get finance is with the government providing guarantees to a private banking syndicate, effectively putting taxpayers on the hook for billions of dollars in project finance.
The prospect is met with the same incredulity in India as it is here in Australia:
FOUR CORNERS: "Watching on from Delhi, India's former Environment Minister can't believe what he is seeing."

JAIRAM RAMESH: "Ultimately, it's the sovereign decision of the Australian Government, the federal government and the state government.

FOUR CORNERS: "But public money is involved, and more than public money, natural resources are involved.

JAIRAM RAMESH: "I'm very, very surprised that the Australian government, uh, for whatever reason, uh, has uh, seen it fit, uh, to all along handhold Mr Adani.
Here we have a project that does not stack up financially, and whose profits – should it make any – are destined for tax haven entities controlled privately by Adani family interests. Yet the Queensland government has shocked local farmers and environmentalists by gifting Adani extremely generous water rights, and royalties concessions to boot.
Why are Australian governments still in support?
The most plausible explanation is simply politics and political donations. There is no real-time disclosure of donations and it is relatively easy to disguise them, as there is no disclosure of the financial accounts of state and federal political parties either. Payments can be routed through opaque foundations, the various state organisations, and other vehicles.
Many Adani observers believe there must be money involved, so strident is the support for so unfeasible a project. The rich track record of Adani bribing officials in India, as detailed by Four Corners, certainly points that way. But there is little evidence of it.
In the absence of proof of any significant financial incentives however, the most compelling explanation is that neither of the major parties is prepared to be "wedged" on jobs, accused of being anti-business or anti-Queensand.
There are votes in Queensland's north at stake. Furthermore, the fingerprints of Adani's lobbyists are everywhere.
Adani lobbyist and Bill Shorten's former chief of staff Cameron Milner helped run the re-election campaign of Premier Annastacia Palaszczuk. This support, according to The Australian, has been given free of charge:
Mr Milner is volunteering with the ALP while keeping his day job as director and registered lobbyist at Next Level Strategic Services, which counts among its clients Indian miner Adani…

The former ALP state secretary held meetings in April and May with Ms Palaszczuk and her chief of staff David Barbagallo to negotiate a government royalties deal for Adani, after a cabinet factional revolt threatened the state's lar­gest mining project.
Adani therefore enjoys support and influence on both sides of politics. "Next Level Strategic Services co-director David Moore — an LNP stalwart who was Mr Newman's chief of staff during his successful 2012 election campaign — is also expected to volunteer with the LNP campaign."
So it is that Premier Palaszczuk persists with discredited claims that Carmichael will produce 10,000 jobs when Adani itself conceded in a court case two years ago the real jobs number would be but a fraction of that.
If the economics don't stack up, why is Adani still pursuing the project?
The Adani group totes an enormous debt load, the seaborne thermal coal market is in structural decline as new solar capacity is now cheaper to build than new coal-fired power plants and the the government of India is committed to phasing out coal imports in the next three years.
Why flood the market with 60 million tonnes a year in new supply and further depress the price of one of this country's key export commodities?
The answer to this question lies in the byzantine structure of the Adani companies themselves. Adani already owns the terminal at Abbot Point and it needs throughput to make it financially viable.
Both the financial structures behind the port and the proposed railway are ultimately controlled in tax havens: the Cayman Islands, the British Virgin Islands and Singapore. Even if Adani Mining and its related Indian entities upstream, Adani Enterprises and Adani Power, lose money on Carmichael, the Adani family would still benefit.
---
Read more: Australia's $1 billion loan to Adani is ripe for High Court challenge
---
The port and rail facilities merely "clip the ticket" on the volume of coal which goes through them. The Adani family then still profits from the privately-controlled infrastructure, via tax havens, while shareholders on the Indian share market shoulder the likely losses from the project.
As the man who used to be India's most powerful energy bureaucrat, E.A.S. Sharma, told the ABC: "My assessment is that by the time the Adani coal leaves the Australian coast the cost of it will be roughly about A$90 per tonne.
"We cannot afford that, it is so expensive."
More questions than answers remain
This renders the whole project even more bizarre. Why would the government put Australian taxpayers on the hook for a project likely to lose billions of dollars when the only clear beneficiaries are the family of Indian billionaire Gautam Adani and his Caribbean tax havens.
My view is that this project is a white elephant and will not proceed. Given the commitment by our elected leaders however, it may be that some huge holes in the earth may still be dug before it falls apart.
Postscript: speculation is that the State Bank of India is in negotiations as a project financier and, should EFIC proceed with its loan insurance or guarantees, the Australian taxpayer would effectively underwrite the risk for the $3 billion to $10 billion in loans from the banking syndicate required to build Carmichael Stage I.
The Big Four Australian banks have said they would not back the project. Many offshore banks have also ruled it out for financial and environmental reasons. Should the project fail, as many predict it will, the Australian taxpayers would be on the hook for the losses while Adani family private companies, which stand to profit from the port and rail facilities, would be quarantined from the losses.
With the exception of dotcom puffery 15 years ago, this correspondent has not seen a government get involved in a worse transaction in two decades as a finance journalist.
---
Author

Michael West

Michael West established michaelwest.com.au to focus on journalism of high public interest, particularly the rising power of corporations over democracy. Formerly a journalist and editor at Fairfax newspapers and a columnist at News Corp, West was appointed Adjunct Associate Professor at the University of Sydney's School of Social and Political Sciences. You can follow Michael on Twitter @MichaelWestBiz.

Michael West established michaelwest.com.au to focus on journalism of high public interest, particularly the rising power of corporations over democracy. Formerly a journalist and editor at Fairfax newspapers and a columnist at News Corp, West was appointed Adjunct Associate Professor at the University of Sydney's School of Social and Political Sciences. You can follow Michael on Twitter @MichaelWestBiz.