Australia falls to all-time OECD low on jobs but $A rallies against Zambian kwacha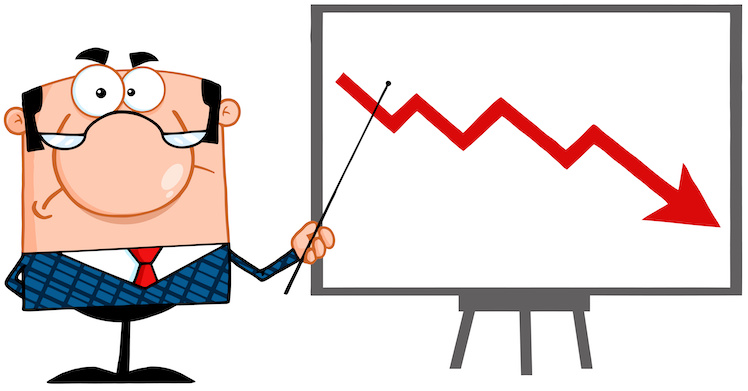 Australia's drift down the global league ladder continues, on a range of metrics. A sobering account of how Australia's economy is faring versus those of its global peers by Alan Austin.
Aussie dollar
A good indicator of economic health relative to the rest of the world is the value of the currency. The Aussie dollar tumbled further during 2018-19 against every major currency. It lost more than five per cent against the US dollar, the Hong Kong dollar, the Canadian dollar and the Singapore dollar. It fell more than six per cent against the Japanese yen, the Swiss franc and Indonesia's rupiah.
The Aussie also slid, but more marginally, against the Euro, the British pound, the Chinese yuan and New Zealand's dollar. It did, however, rally slightly against the Zambian kwacha.
Thus in global terms, all Australians are now about five per cent poorer than they were a year ago.
Jobs
The number of people unemployed in June was back above 710,000 for the first time in 13 months. The jobless rate was 5.24 per cent, barely changed from 5.31 per cent a year earlier.
That Australia has failed dismally to take advantage of the current global boom is shown in the decline in its global standing on jobs. Australia's jobless rate of 5.24 per cent now ranks 75th in the world and 19th in the Organisation for Economic Cooperation and Development (OECD). That's the club of 36 wealthy, developed mixed capitalist economies with which comparisons can and should be made.
That is the lowest Australia has ranked since records have been kept. In June 2012 and June 2013, Australia ranked eighth. Just 12 months ago, Australia ranked 17th.
Youth unemployment
A year ago, the number of 15 to 19 year olds out of work was a disturbing 113,400. That has ballooned over the year to 135,100, up 19.1 per cent. As a proportion of the youth work force, that has risen from 13.9 to 16.4 per cent.
Ranking in the OECD has collapsed from eighth in 2012 to 11th in 2014, to 14th in 2015, to 18th in 2017 and down to 20th now — the lowest ever.
Hours worked per person
This fell again from 32.3 hours per month to 32.1 over the year. This is the third consecutive annual decline since 33.2 in June 2016. Okay, the declines are not huge, but that's not the point. This is the time in the global economic cycle when all employment indicators should be booming. These indicators are now at record bests in most well-managed economies.
Average weeks the jobless spend looking for work
In June 2013 this was 37.7. A year ago, June 2018, it was up to 49.6. It is now 50.9, more than thirteen weeks longer than when this Government took office.
Workers over 65
The number of workers above the retirement age still having to work jumped alarmingly over the financial year, from 542,400 to 610,000, an all-time high. That's a hefty rise of 12.6 per cent. It was worse for women, up 14.2 per cent, than for men, up 11.6 per cent.
The percentage of Australia's population aged above 65 now working increased over the financial year from 13.8 to a disturbing 15.1.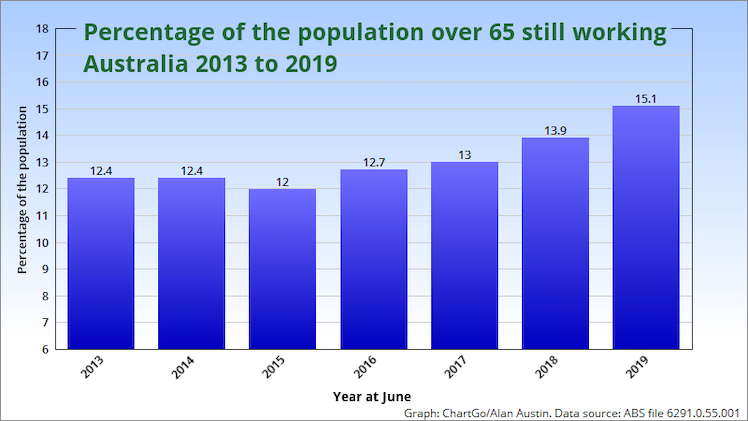 Interest rates
The Reserve Bank slashed interest rates to an all-time low of 1.25 per cent, thus confirming Australia's economy is struggling badly.
This has caused some dismay among observers abroad who watched Australia maintain optimum interest rates throughout the global financial crisis, with only Mexico achieving the same.
Women in cabinet same by number, but rank (out of 23) fell 12.7 to 16.1. Reynolds (Defence! down 8 to 21), McKenzie down 4 to 8 (despite Nats deputy convention). Paine stays 9, Cash & Andrews 16 & 17. Ley back at 20, new Anne Rushton at 22.https://t.co/lj8gquxVuc#MW30#auspol

— ?Michael West (@MichaelWestBiz) June 26, 2019
Budget deficits
The federal budget remains in deficit, placing Australia among the OECD's laggards. Latest figures show 18 of the 36 developed economies are now in balance or surplus with the other 18, including Australia, still in deficit.
Government debt
At 30 June, Australia's gross debt was $542.0 billion. That's up $10.06 billion over the financial year.
But then we see net debt has blown out over the year from $342.0 billion to $$373.5 billion. That's a thumping $31.5 billion turnaround, or 9.2 per cent.
This consolidates Australia's position as having the second highest debt blow-out of all OECD countries since 2013. Only Chile has fared worse.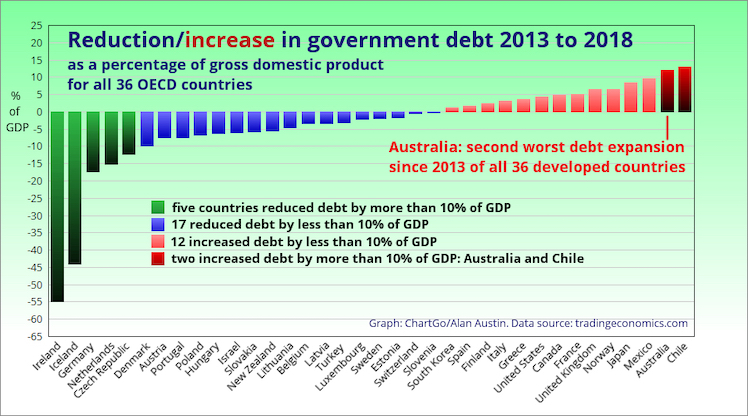 Interest paid on the debt
The Coalition paid $17,154 million in the year just ended. That is $4,945 million more than Labor paid in its last year on its debt. That difference equals an extra $132 every week for all Newstart recipients. Just sayin'.
Stock market performance
Even Australia's rich fared poorly with the ASX All Ords increasing just 6.5 per cent over the year. That is better than the stock exchanges in Japan and Britain, which have had their issues. But well below the US Dow Jones Industrials (9.6 per cent), Bombay's Sensex (11.2 per cent), the Latin America 40 (14.3 per cent), the Swiss all share index (17.9 per cent), Euronext NV (22.2 per cent) and Brazil's Bovespa (38.8 per cent).
Policies not working
All up, a disappointing year. So far. We are yet to see retail sales, housing starts, the final budget outcomes, GDP growth, construction activity and productivity.
Earlier this month Treasurer Josh Frydenberg said the Government is executing a "plan for a stronger economy and securing a better future for all Australians." The numbers show that plan is just not working.
Hospital Pass: Josh Frydenberg and the Coalition as, ahem, superior economic managers
———————
Alan Austin is a freelance journalist with interests in news media, religious affairs and economic and social issues.
You can follow Alan on Twitter @alanaustin001 .
While global household incomes grow thanks to the boom, here's why ours keep falling
Public support is vital so this website can continue to fund investigations and publish stories which speak truth to power. Please subscribe for the free newsletter, share stories on social media and, if you can afford it, tip in $5 a month.
---
Author

Alan Austin

Alan Austin is a freelance journalist with interests in news media, religious affairs and economic and social issues. You can follow Alan on Twitter @alanaustin001.

Alan Austin is a freelance journalist with interests in news media, religious affairs and economic and social issues. You can follow Alan on Twitter @alanaustin001.