ASIC grandly slammed by Harold Mitchell mates, must appeal Tennis Australia case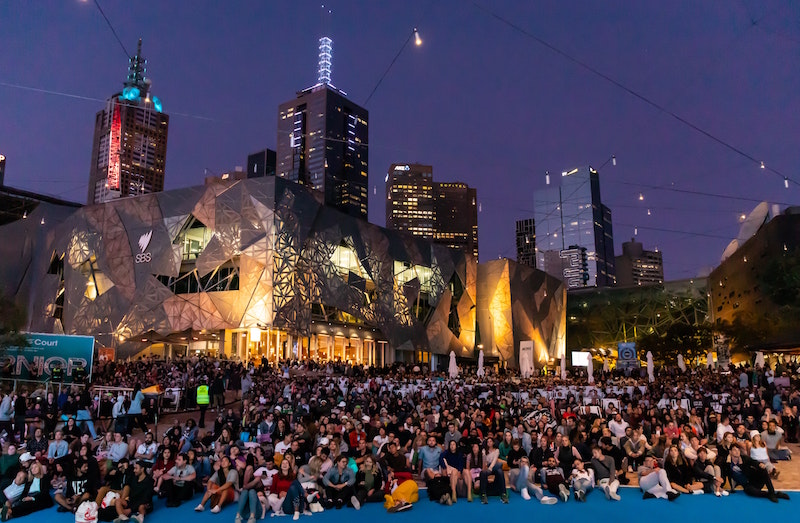 Is ASIC a poodle for Rich Listers and big business or a serious corporate regulator? In their seven years in power the Liberals have appointed all the key personnel. The decision on whether to appeal the loss it suffered in the court case it brought against advertising mogul Harold Mitchell will be a key test. Stephen Mayne makes the case for an appeal.
Four weeks ago, Rich Lister Harold Mitchell chalked up what appeared to be an impressive win against corporate regulator ASIC.
ASIC alleged that as deputy chair of Tennis Australia, the powerful advertising mogul had colluded with the Seven Network in 2013 over the renewal of the exclusive television rights to the Australian Open.
Once the surprise decision from Justice Jonathan Beach came out on Friday July 31, without reading the 400-page judgment I posted a tweet pointing out that it was a big win for Mitchell and a major blow to the reputation of the corporate plod.
The Harold Mitchell vs ASIC case was a classic – one of the most memorable corporate actions since ASIC was formed in 1991. ASIC can't be happy with this result, but may yet appeal. Harold vindicated in staying on the Crown board: https://t.co/2whFuQKNct

— Stephen Mayne (@MayneReport) July 31, 2020
Later that evening, a text came in from Mitchell: "Stephen, someone told me of a supportive tweet regarding ASIC. Thanks, Harold"
We arranged to have a chat about the case after the Carlton game finished.
Mitchell was very persuasive, and I ended up convinced that he did a fabulous job as a director, turning Tennis Australia into the nation's most cashed-up sporting body by maximising its media rights. Why would ASIC go chasing someone who had done such great work?
I duly wrote a piece for the weekly Monday column I write for Alan Kohler's investor newsletter, The Eureka Report, headlined "Harold Mitchell gives ASIC a blood nose" criticising ASIC and praising Mitchell.
I wrote that I'd long been of the view that ASIC needed to take on more big fish but that before launching these cases, ASIC should look at the scoreboard.
If Seven West Media had really got the Australian Open rights for a song in 2012, would its share price have plunged from $3 to 10c over the following eight years? And would Tennis Australia have a balance sheet (see p68 of 2018-19 annual report) showing members equity of almost $100 million and annual revenues approaching $400 million?

What happened here is that the board split on personality grounds, partly driven by personal ambition. Complaints were made to ASIC about Harold's role during the rights negotiation and the regulator ran with it, partly because you don't often get former directors agreeing to testify against a colleague.

After a four year process, ASIC doesn't have much to show for their endeavours (although Friday's media statement was pretty bullish) and will probably end up paying for much of Harold's costs, which will likely be in the order of $2-3 million.

So next time ASIC, when taking on the big boys, please make sure there is a hard up victim and a villain with plenty of ill-gotten gains.
Crikey proprietor Eric Beecher then commissioned a piece from me for the August 4 edition. I adopted a very different tone because by then I had taken the time to read Justice Beach's extraordinary judgement.
I wrote that ASIC made the right call taking on Harold Mitchell.
The judgement is a racy read that clearly spells out that Mitchell is a man not to be trifled with. Mitchell came out swinging against ASIC, telling The Australian Financial Review that ASIC was "totally naive in understanding the commercial world".

Similarly, Bruce McWilliam, the Seven Network commercial director who had extensive dealings with Mitchell throughout the rights renewal process, also got on the front foot.

With a final cost to taxpayers of more than $15 million, it would be easy to conclude the four-year battle with Harold Mitchell was one of ASIC's biggest mistakes.

However, there was also a strong public benefit. The judgement provides fascinating insights into how business is done and the murky world of negotiating television rights.

This is also the second major case where Justice Beach, who is believed to be under consideration for appointment to the High Court, has effectively said "technically guilty but no real harm done so no meaningful penalty to apply".

Mitchell was way too close to the Seven-Stokes camp as he drove the contract renewal process, and it would be nice if both he and Bruce McWilliam acknowledged that they would do things very differently if they had their time again.

Instead, they appear to be embarking on a regrettable campaign to discredit ASIC which, faced with director whistleblowers making strong allegations, did the right thing investigating the actions of this particular big fish.
Which brings us to the present. The Australian's right wing columnist Janet Albrechtsen, who doubles as chair of the IPA and is a blatant powerbroker in the Liberal Party, used her August 5 column to launch a massive attack on ASIC for even running the case.
She wrote that ASIC had suffered the most humiliating defeat in recent history, that the court has slammed it case against Mitchell as infected with "confirmatory bias", founded on "various cover-up and conspiracy theories", "rolled up assertions", and a "penny dreadful narrative" that "was problematic at the start of the trial and not maintainable by its end".
We must ask whether the corporate regulator has any clue about how companies operate, how business works, how deals are done, not to mention how to run a court case. We might also wonder whether the place is filled with dills or zealots — or both. The result of this debacle is that ASIC's credibility has never been lower."
She wrote that Tennis Australia adopted a commercially savvy strategy with Seven during an exclusive negotiating period. "ASIC's incompetence and trickery was exposed further when it refused to call Bruce McWilliam, Seven's commercial director, as a witness."
After reading that, you could be forgiven for thinking that ASIC totally stuffed up and unfortunately the word on the street is that ASIC's big-talking deputy chair and head of enforcement, Dan Crennan QC, has decided not to appeal.
Grounds for appeal
First, the controversial decision of Justice Beach to call Seven's Bruce McWilliam as his own witness clearly went against High Court authority and is likely to be corrected on appeal. You would think a former Freehills lawyer like Albrechtsen would know this.
The High Court has previously said a judge should never call a witness in any type of proceeding without the consent of both parties.
Beach's justification is that he regards ASIC in a civil penalty proceeding as a quasi-prosecutor and subject to a duty of fairness like the prosecutor in a criminal case. That is contrary to what the High Court said in the James Hardie case, where it held that ASIC is like any other civil litigant in this type of case.
ASIC had a pretty open and shut case of collusion against Mitchell based on the extraordinary email exchanges with McWilliam. However, by calling McWilliam as a witness, Beach gave Mitchell's counsel the right to cross-examine him, dramatically tipping the forensic balance away from ASIC.
This was evident in the reasons for judgement, where the judge relies heavily on answers given by McWilliam to downplay the significance of his incriminating emails and to dismiss most of the allegations ASIC made against Mitchell.
Compelling witnesses
Moreover, Albrechtsen's attack fails to even mention that ASIC had three former Tennis Australia directors, Kerryn Pratt, Janet Young and Scott Tanner, who gave evidence against Mitchell. The ASIC case was built around them.
Pratt was a compelling witness who produced a contemporaneous file note which contradicted the evidence given by Mitchell's co-defendant, Steve Healy, the former Tennis Australia president who was accused of withholding key information from the board.
After hearing this evidence, ASIC's QC, Michael Pearce, applied to have transcripts of the regulator's earlier examination of Healy tendered as evidence, but Beach declined. This is the other key legal point worth exploring on appeal.
As chair of the anti-regulation IPA, Albrechtsen's attack should come as no surprise. She launched similar attacks on proxy advisers last year — how dare they get in the way of businessmen like Gerry Harvey? — and has been equally voluble in her campaign to wind back the class actions industry.
It's the classic pro-business, small government agenda prosecuted globally by News Corp, the Murdochs and the US Chamber of Commerce.
Corporate governance 101
On reading the judgement in full, I believe Mitchell and Tennis Australia should have done far more to test interest in the market when selling their rights in 2013.
Taking big contracts to market is corporate governance 101 and Australia's media moguls are notorious for pressuring sporting bodies to deliver them sweetheart deals on sporting rights. Look at the way Seven West Media persuaded the AFL to discount its current rights contract by almost $90 million under the cover of COVID-19 and is also bad-mouthing Cricket Australia because it hasn't agreed to do the same.
For some strange reason, Justice Beach was particularly strong in his view that Tennis Australia did the right thing not going to market with the rights when there was evidence provided that then Network Ten chair Hamish McLennan was up for committing $50 million a year.
Given that Lachlan Murdoch and James Packer together owned about 18% of Ten at the time, you would think Ten's credibility as a bidder would have been obvious, rather than being "precarious" and lacking in credibility.
Anyway, the deadline for ASIC to give notice of an appeal on the Stephen Healy charges is Friday, August 28. It has more time on Mitchell because Justice Beach is expected to deliver "declaration of contraventions" on his three minor breaches next week.
ASIC has 28 days to decide whether to appeal once a judge has completed the decision-making process on any charges brought, so a decision on any Mitchell appeal is not required until early October.
Let's hope Dan Crennan decides to appeal. If he fails to do so, the rumours that he is an anti-regulator Liberal Party mate cut from the same cloth as Janet Albrechtsen and her IPA mates will continue to circulate.
As Crikey has well documented (see here and here), the Liberals have a shocking record of stacking the Administrative Appeals Tribunal under its un-written "No Liberal should be left behind" strategy evident during the Abbott, Turnbull and Morrison governments.
It is not known what Liberal Party connections Crennan had when he was plucked from relative obscurity in the middle of 2018 to become ASIC's designated heavy hitter after years of under-funding and soft appointments.
However, the position of deputy chair and head of enforcement carries a lot of power and it is on his shoulders that the appeal decision rests.
Over to you, Mr Crennan. You've got until 4pm on Friday August 28 to lodge the notice of appeal on the Steve Healy matter and the case for doing that has been clearly spelt out. Please do it.
---
Author

Stephen Mayne

Stephen Mayne is a Walkley Award journalist, shareholder activist, former City of Melbourne councillor, former spindoctor for Jeff Kennett's Victorian Liberal Government, founder of crikey.com and publisher of wwww.maynereport.com. He can be reached on [email protected]

Stephen Mayne is a Walkley Award journalist, shareholder activist, former City of Melbourne councillor, former spindoctor for Jeff Kennett's Victorian Liberal Government, founder of crikey.com and publisher of wwww.maynereport.com. He can be reached on [email protected]