#29Leaks shows need for reforms on creating companies, says UK anti-corruption chief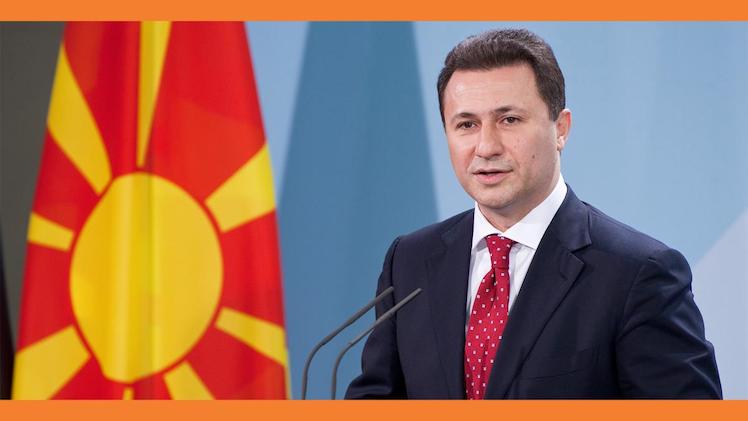 The Formations House leak shows need for reforms on creating companies, says UK anti-corruption chief. Report from Christian Eriksson, David Brown and George Greenwood of The Times, London.
Boris Johnson's anti-corruption champion has said that the UK must "clamp down harder" on corruption after an investigation revealed how a British company registered a global web of businesses linked to international crime gangs.
John Penrose, who co-ordinates the response to corruption, said that Britain's reputation for integrity was vital to secure trade deals after Brexit as all three main parties agreed to introduce tougher regulations after the election.
An investigation by an international consortium, including The Times and Finance Uncovered (and in Australia CrikeyINQ and Michael West Media), and co-ordinated by the Organised Crime and Corruption Reporting Project, found that companies created by Formations House, which is based in London, were later used by criminals to carry out scams worth more than £300 million.
Operation Slippery: Russian aviation magnate diverts Australian Defence profits to tax havens
Leaked documents show that Formations House planned to help to create a tax haven in southern Europe which legal experts said was at risk of becoming
"a haven for dirty money".
Mr Penrose said that Britain must introduce tougher regulations on creating new companies.
"Britain's reputation as a clean, safe place to do business and invest will be absolutely vital for all those post-Brexit trade deals we want to do," he said.
"Reputations take years to earn but can be lost in an instant, so we simply can't let kleptocrats or crime lords channel dirty money through Britain's system."
Mr Penrose said that a draft was ready to go through parliament "which will make Britain's rules for registering new companies cleaner and safer, so we can clamp down harder where it's needed".
Sir Ed Davey, the Liberal Democrat deputy leader, said:
"The rules for company formation agents need an urgent rethink, coupled with a stronger Companies House, to ensure that unscrupulous companies can't exploit the rules."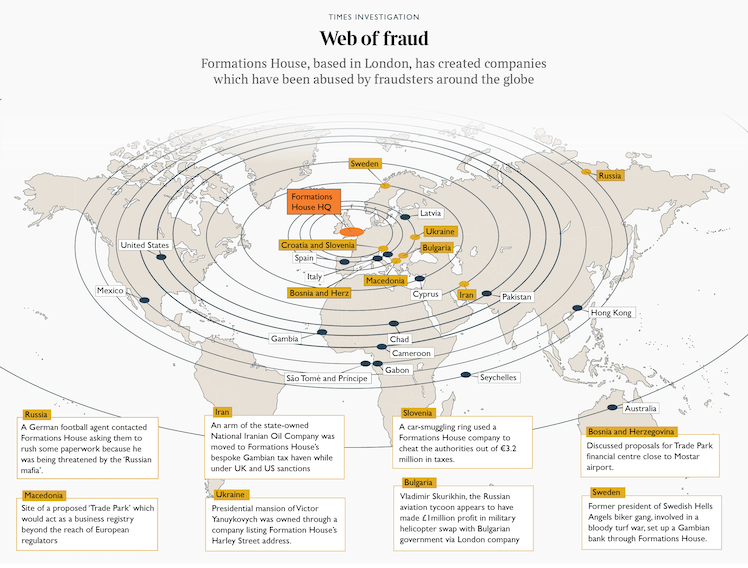 John McDonnell, the shadow chancellor, has pledged to "provide greater powers and resources to tackle the scale of abuse" following the Formations House revelations.
Formations House papers linked the company to Viktor Yanukovych, a former Ukrainian president who is accused of embezzling $1.5 billion.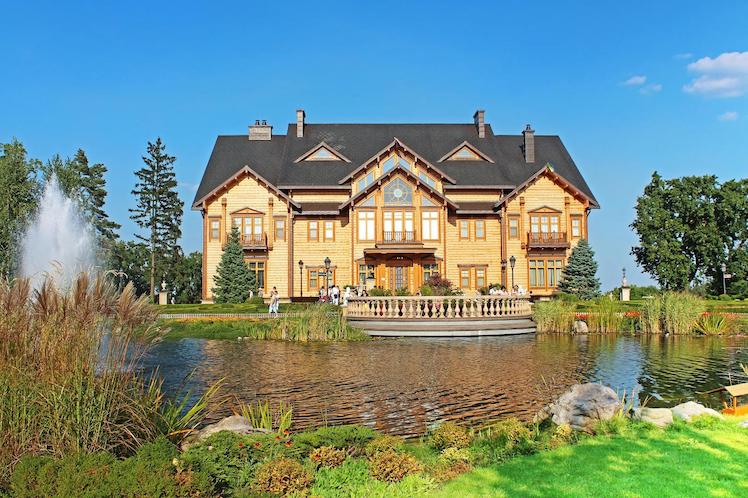 In 2008, it created the company that owned Mr Yanukovych's country mansion set within 350 acres on the banks of the Dnieper river near Kiev, and became a symbol of the 2014 revolution. The Ukrainian government later seized the property.
The leaked database reveals that Charlotte Pawar, the boss of Formations House, drew up plans for a secretive new tax haven in North Macedonia. Its marketing presentation promised: "Total anonymity provided, with no visibility to US or international institutions."
Nikola Gruevski, then the country's prime minister, began railroading plans through parliament to create a tax-free financial zone in 2014. Ms Pawar, 39, then went on multiple trips to Macedonia, along with her half-brother Darius Khan, 28, where they met Mr Gruevski, the finance minister and the minister of information, society and administration to discuss the plans and other opportunities for business development.
Our quest for transparency sees hackers and journalists dying for your right to know
The Venice Commission, an advisory body on constitutional law for the Council of Europe, warned that the zone could become "a sort of a 'state within a state' separate from the existing constitutional structure" and "a haven for 'dirty money'".
A series of corruption scandals surrounding the government led to massive street protests and the European Union was forced to intervene and brokered new elections in 2016. Mr Gruevski has been convicted of corruption but has fled to Hungary.
Zoran Zaev, the North Macedonian prime minister, said that he had been concerned about the previous administration's plans for Formations House's tax-free zone. "It seemed very bold in the given state of affairs to go and say, 'Oh we [the state] want to make an offshore zone right here guys, what do you say about it?' I was astonished," he recalled.
Ms Pawar said in a statement: "Like all other formation agents in our industry, we have no control over the actions of companies and their directors after we have provided our formation service."
In relation to the North Macedonia proposals, she added: "We have had multiple invitations to present project opportunities in many countries. The projects in their entirety address steps to aid governments to tackle illicit distribution of assets.
"The projects clearly state that they will assist the country to surpass many other jurisdictions for compliance and ranking with the World Bank."
—————————–
Formation House services: so what has the company offered?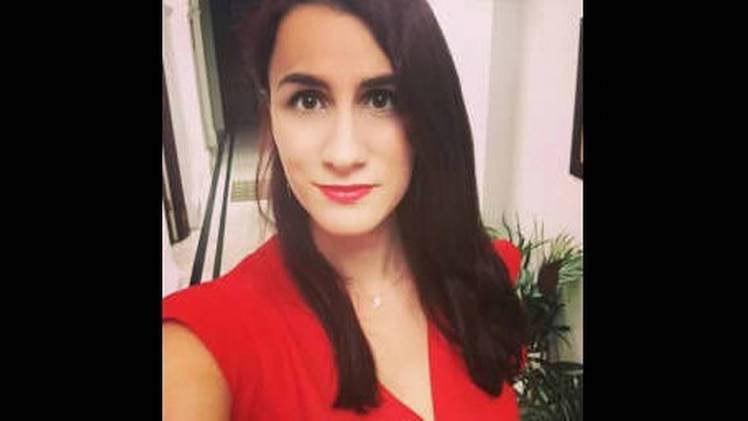 Registered and trading address
Formations House offers an address at 85 Great Portland Street for £50 for 12 months to receive all "government-related" mail for forwarding. Previously, it offered 29 Harley Street. For £250 a year Formations House also offers a trading address "to stand out on your business letterheads and contact information by having a postal on one of London's most famous streets". It includes daily forwarding of mail and packages and meeting rooms and customer service.
The risks — A central London address can give a veneer of respectability and a misleading impression that it is more successful than it is in reality, particularly to overseas customers of the company.
"Readymade" companies
Formations House claims to have the largest collection of "readymade" companies in the UK, which it formed at an earlier date. The 499 catalogued on its website range from Designware Ltd, incorporated in June 2018, for £99 to City of London Bank Ltd, incorporated in February 2002, for £75,000. Formations House says publicly that it ecures "the name from being incorporated by someone else" and offers "unique and prestige [sic] company names, significant incorporation dates" and up-to-date dormant company accounts.
The risks — Historic incorporation dates can give the misleading impression that a company is more established than it is and the names can also give an unwarranted veneer of respectability. It can also help "game" pre-qualification questionnaires for contracts, which can require a company to have been trading for a certain period of time. Leaked internal Formations House emails show it was selling a company, Corporate App Ltd, with "trading history over three years [sic] with significant trading volume". It also offered several UK limited liability partnerships where "we have been filing as active accounts with around 80k-90k per year turnover". Charlotte Paware, the head of Formations House, said in a statement that it "offers dormant shelf companies" and that it had in the "past offered companies with active bank accounts". "These were offered for various reasons not limited to the original owner requesting us to sell the business on their behalf when they no longer have need for it."
International company formation
Formations House said on its website that its international company serve was a "popular choice for those looking for more tax-efficient solutions". Benefits include "many … are exempt from taxes on all profits gained outside the jurisdiction", discretion as "the owners are not legally required to disclose any information about their company to anyone" and "minimal compliance requirements", it states. It publicly offers twelve jurisdictions ranging from the British Virgin Islands (£870 plus VAT to the Isle of Man (£6,000 plus VAT).
The risks — The due diligence required on customers of overseas companies might not be as thorough as the UK requirements and might facilitate money laundering. Where offshore companies are formed as part of a network of overseas companies, it can create further secrecy around its operations. Ms Pawar said in a statement that it "carries out the required due diligence" checks.
International bank account
Formations House uses "contacts" to open bank accounts in Belize, Puerto Rico, Mauritius and the British Virgin Islands, which "let you diversify your risk, while also affording you privacy and confidentiality". Openings are not guaranteed but "we have been extremely successful over the lst 15 yers of operation and are in the unique position of having extremely strong relationships in place".
The risks — The due diligence required on customers of the overseas bank accounts might not be as thorough as UK banking regulations and might facilitate money laundering. Ms Pawar said in a statement that "we do not currently sell any businesses with existing bank accounts".
Nominee services
Formations House sells nominee services, in which someone is employed to be a director or shareholder. It can help mask the beneficiaries of a company. The government introduced a people with significant control (PSC) register in June 2016 requiring information about the individuals who own or control companies to improve transparency. Its website states that it continues to offer nominee directors, which remains legal, from £400.
The risks — Before the changes, fraudsters could use nominees to distance themselves from companies, particularly using offshore legal entities. Critics say fraudsters can exploit the new rules because Companies House does not verify the information. Edwina Coales, the grandmother of Ms Pawar, was named as the director of more than 1,000 companies created by Formations House. She died in 2012, the year when she was removed from the bulk of the companies, but continued to act as a director of dozens of companies after her death. By 23016, she had finally resigned from all but one. Ms Pawar said in a statement: "This was an oversight. She was merely a director for the purpose of maintain [sic] the shelf companies. Formations House does not offer nominee director services."
Republished with permission from The Times.
——————–
Public support is vital so this website can continue to fund investigations and publish stories which speak truth to power. Please subscribe for the free newsletter, share stories on social media and, if you can afford it, tip in $5 a month.
---
Author

George Greenwood

George Greenwood is a data journalist at The Times and The Sunday Times who specialises in using freedom of information requests and analysing open data for investigative reporting. He started his career at BBC News, then joined The Times in 2018.

George Greenwood is a data journalist at The Times and The Sunday Times who specialises in using freedom of information requests and analysing open data for investigative reporting. He started his career at BBC News, then joined The Times in 2018.