Deloitte valued the Sydney Opera House at $4.6 billion. That might be "replacement cost" if you had to raze it to the ground and begin again. But how do you value something which has lured millions of tourists to Australia over the years and towers in the imagination of billions of people worldwide, an edifice whose visual recognition lies in the same league as the Eiffel Tower, Westminster and the Parthenon? Surely, Australia's most iconic structure – originally, ironically financed by gambling – is priceless.
"On 13 July, 1970, Kerry O'Brien in The Sun reported that provisional estimates on the cost of maintenance for the building showed it could never hope to pay its own way. "Project engineers estimate that maintenance on the $85 million Opera House will cost well over $1 million a year. Insurance premiums alone would cost as high as $130,000 a year… Even by charging high rentals the trust would be unable to cover its staggering maintenance costs."
So writes Helen Pitt, journalist with the Sydney Morning Herald and author of the new book, The House. Pitt's history of the Opera House tells of the intrigue and the stories of personal triumph and tragedy behind this magnificent building. She pulled a few costs from her notes however; and this thing had more cost blow-outs than Premier Gladys Berejiklian's Light Rail project.
It seems the young reporter, Kerry O'Brien, was a bit low with his estimates. The final cost was $102 million, an enormous figure at the time. There was outrage in the same year, 1973, when the government of Gough Whitlam bought Jackson Pollock's Blue Poles for $1.3 million.
In 2013, consulting firm Deloitte estimated the total social asset value of the Opera House to be $4.6 billion. It's a more recognisable brand than Australia itself, the report found. It welcomes more than 8.2 million guests and its 1800 performances annually are attended by 1.45 million people. It also contributes, at last count, $775 million a year to the national economy.
In 1957 when Jorn Utzon won the international design competition, the front page headline in the Herald was "Cheapest to Build".
"Quantity surveyors, Rider, Hunt and Partners, spent 20 minutes providing the initial estimate for the judges of 3.5 million pounds," writes Pitt. "It's important to remember this was not a figure Utzon ever gave. It was always a small firm of Sydney surveyors who had never seen anything like this before and was a complete guesstimate!"
As so befitting Australia's distinction of being the biggest nation of gamblers in the world, the project was financed by the Opera House Lottery.
Here is how the costs blew out.
1957 Estimate
£3.5 million / $7.2 million
April 1958
$9.625 million
January 1959
$9.76 million
October 1961
$17.9 million
April 1962
$24.5 million
August 1962
$27.5 million
May 1905


NSW ALP gets voted out in May 1965 because of this cost

$36 million
July 1965


Anounced by Premier Robert Askin

$48.3 million
July 1971
+$85 million
November 1971
$93 million
October 1973 Opening
$102 million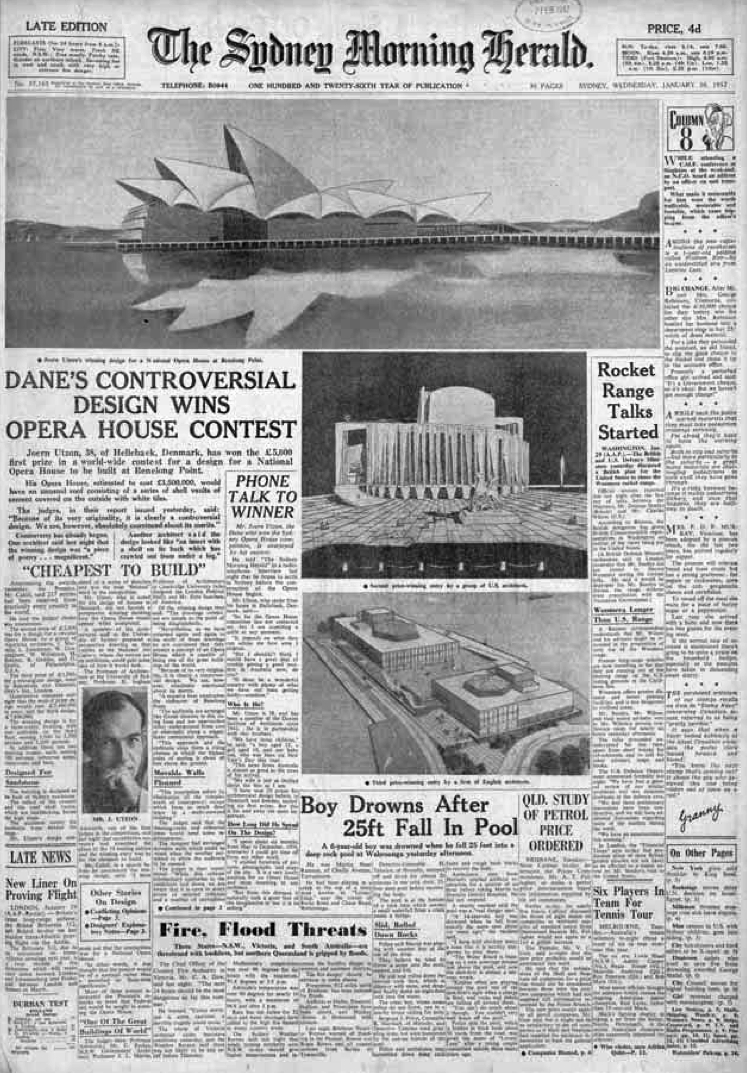 You can see how the cost almost doubled overnight when the corrupt Askin regime took over. There were lots of trips abroad for government ministers to check out other world opera houses.
Pitt reports in the book that although the building was paid for, not by the taxes of the people of NSW, but by lottery tickets, and although there was much handwringing at the time over costs, it was obviously a good result.
The House, published by Allen and Unwin, is available for purchase via the Book Depository.