Payday lenders prey on the most vulnerable. Dr James Freeman tells the story of his 18 year old daughter Lily and breaks down the fees and charges, and exposes the false advertising . Interest rates of 77 per cent are just the beginning.
We've all seen the ads. There's the cheesy blue superhero from Wallet Wizard promising
"Wallet Wizard? Fast and easy cash. Just go online. $500 to $5000 cash possible within an hour of approval…."
or the even cheesier man with glasses in a bunny suit promising
"If you need up to $5000 fast, just Nimble it and move on…"
or from the whale in the pond
"Because life is full of unexpected surprises, Cash Converters now offers loans of up to $5000 to help you get back in control…"
Really, back in control? Let's see what that looks like in the real world because, with regards to Cash Converters, whale is the wrong word. Shark is the right word, as in loan shark.
Before we look in detail at what a loan from Cash Converters looks like, you know, the one that will help you get back in control, here's the story of a customer.
My daughter Lily is 18 years old. She never really thrived at school and dropped out in mid 2018 half way through year 12. To her credit, she put together a CV, burnt a bit of shoe leather, and landed a job in a bar where she's been thriving … except…
The thriving relates to turning up on time, getting her responsible gambling endorsements, being trusted to open and close and generally finding a sense of purpose and community.
The except relates to being sucked into one of these "If it sounds too good to be true, it probably is" payday loans.
Ok, I get it, she's 18 and in the eyes of the law an adult. She's also as financially naïve as you can get with no credit history and a very limited employment history but, despite that, and on the strength of a $500/week pay slip, was able to get not 1, but 2 loans from Cash Converters.
So, for her birthday, I thought I would combine reading her the riot act about these sort of loans with paying them off. I was not entirely surprised to find that a loan of $1000, taken out on 16 October 2018 had a payout figure of $1130.58 and a further loan of $700, following an email entitled "Lily, you may be eligible for a Cashies loan if required" had a payout figure of $904.52.
Let's have a close look at what one of these loans actually cost and why: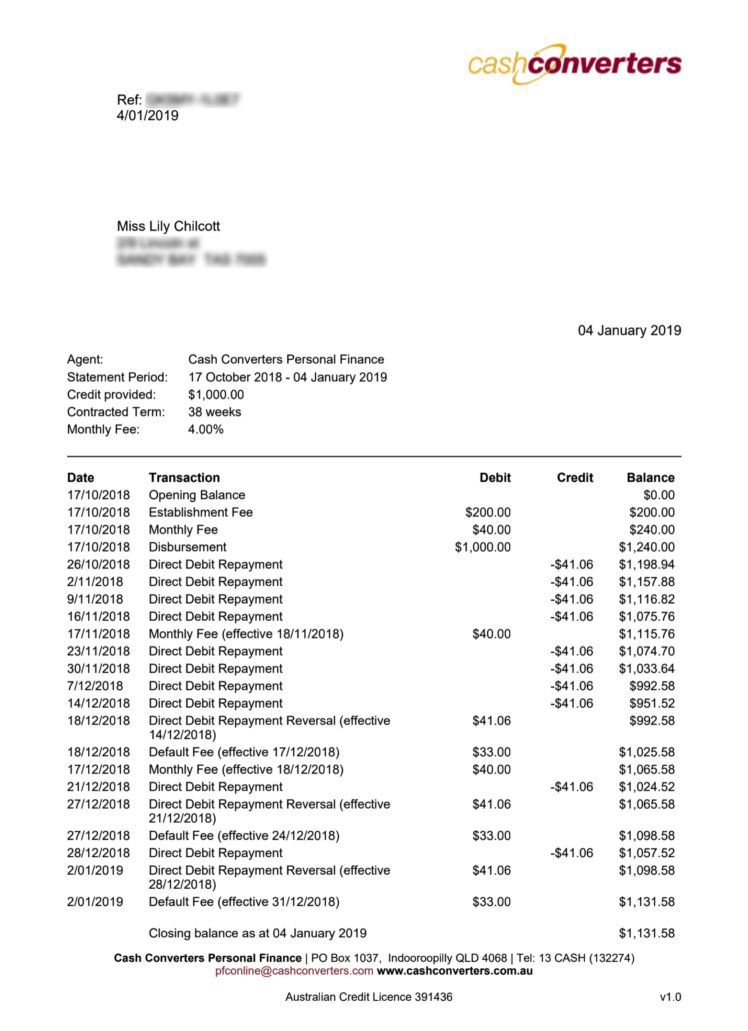 So let's break it down. There is a:
A 20 per cent establishment fee
A 48 per cent pa interest rate*
And up to $1716 pa in $33 per week dishonour fees.
Note that these fees are capped by ASIC and used across the industry, or should I call it a cesspit?
The asterisk against that 48 per cent is there for a reason. It's not really 48 per cent because it is applied every month to the original balance, not to the current loan balance. The APR on this loan calculates out to 76.84 per cent.
The Sydney Morning Herald article Payday loans: our hidden debt crisis made note:
"Here are the facts. Payday loans are almost exclusively used by people on low or very low incomes. For such people, these small loans can help them survive until the next pay cheque. But often, people are getting sucked into loans they can't afford. They end up in helpless situations of ever-increasing debt.

The system is in urgent need of fairer regulation. Some consumers face interest rates as high as 884 per cent. Research shows that 40 per cent of people who get a payday loan are unemployed. A quarter get more than 50 per cent of their income from Centrelink, and the average number of loans per borrower is 3.64.

 These loans are held by those most unable to manage them. There have even been reports of lenders targeting the mentally ill. In July, community legal service WEstjustice found that in a group of clients who are patients of a mental health unit, 23 per cent had a payday loan, and 25 per cent of them had more than one loan.

 On Friday we heard how desperate people get sucked into these unmanageable loans, which can seem like a "quick fix" at first. But people may lack the financial literacy to understand the fine print. They then find themselves in spiralling debt – yet they're offered more loans to get out of the mess. It's like getting trapped in quicksand."
The promise that these loans will, to quote Cash Converters, "help you get back in control" is false. Payday lenders prey on the most vulnerable members of our society and I'd suggest further regulation from ASIC is worthy of consideration.
Things that could be considered might include a mandatory cooling off period, mandatory disclosure of the MoneySmart.gov.au guidance on alternatives to payday loans, and a blanket ban on email and SMS advertising of more payday loans to customers with existing payday loans. An APR closer to the reserve bank rate would be nice too, but I won't hold my breath on that one.
——————-
Dr. James Freeman is the founding owner of GP2U Telehealth and an executive director with responsibilities for platform development and clinical oversight. He brings 20 years of clinical and information technology experience to the company and remains a Lecturer in Medicine at the University of Tasmania.
James has a B.Sc. and MB,BS from UTAS and is on the Dean's Roll of Excellence for outstanding academic achievement.
You can follow James on Twitter @DrJamesFreeman.
Public support is vital so this website can continue to fund investigations and publish stories which speak truth to power. Please subscribe for the free newsletter, share stories on social media and, if you can afford it, tip in $5 a month.