The price of a solar module has crashed 90 per cent since 2010. That was the year when Adani bought into its Galilee Basin coal project but it is now demanding compensation from Australian taxpayers in the event its mine doesn't proceed.
The chutzpah of this company is bewildering. But its recent jobs ruse takes the cake. Adani has set up a website asking for "Expressions of Interest" from those who would like a job at its Carmichael mine.
Only a handful of jobs actually exist but that has not stopped Adani from using the 14,500 Expressions of Interest it has apparently registered on a website to put pressure on the Queensland government.
14,500 job applications 'proof' public supports $22B mega mine in CQ
The question arises; is this deceptive advertising? Expressions of Interest are not jobs. Adani did not respond to questions for this story but when we searched its jobs portal and found 3007 jobs advertised, only six of those jobs related to the company's mining project.
At first glance, it looked like it was all about Adani jobs. The top listing was for a part-time position in Kin Kora. But click on the link showed that this was a sales job at Bras N Things:
"We have a rewarding opportunity for a Part Time Team Member to join one of our dynamic stores!
If you're passionate, friendly and driven to provide every Customer with an amazing experience which leaves them feeling fabulous then we want to hear from you!"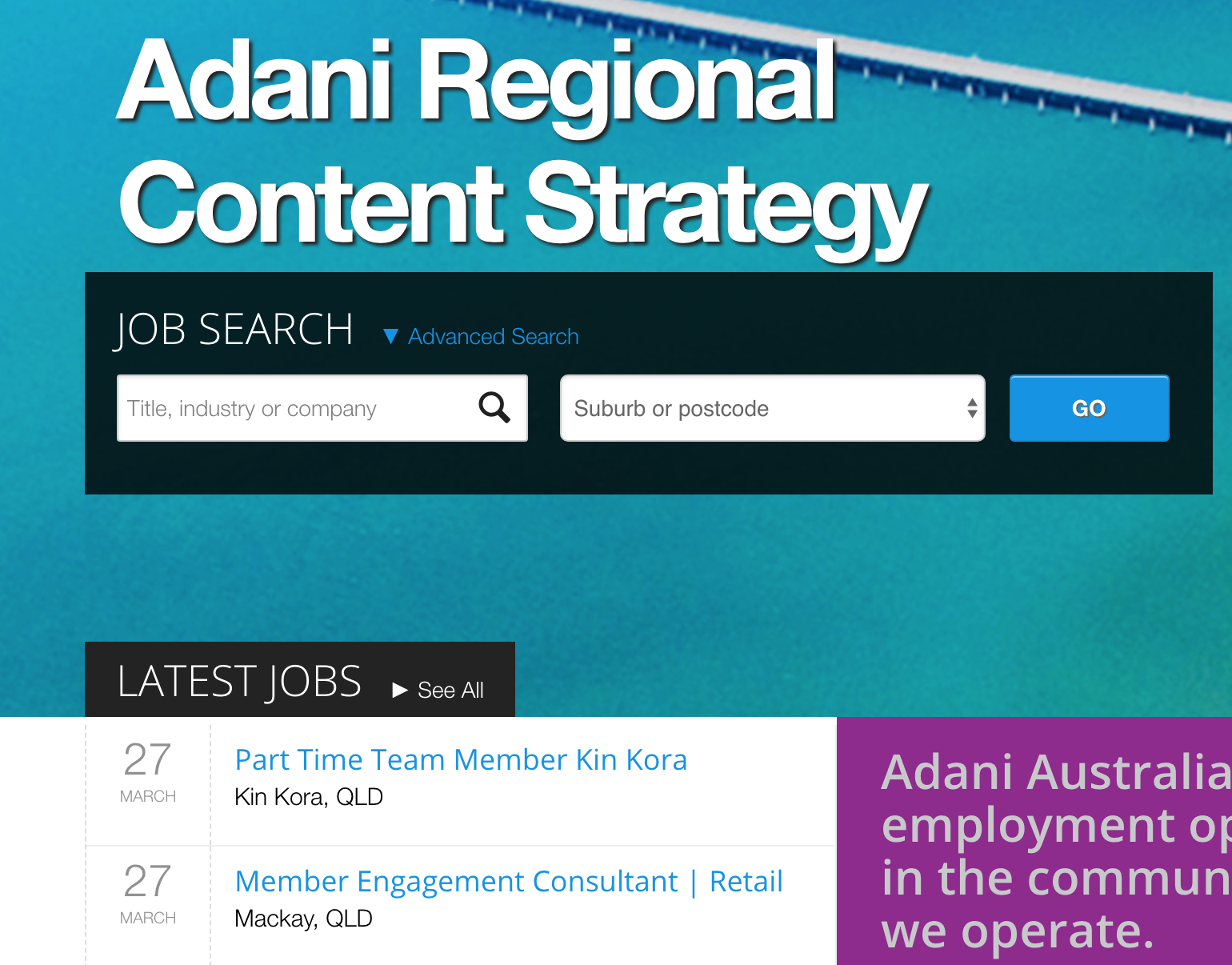 We don't hear as much trumpeting from Bras N Things, as from Adani, about its absolutely crucial importance to the economy. You won't see Scott Morrison waving about a lump of knickers in Parliament, or Matt Canavan pushing for public subsidies so bras can rescue the poor people of India from poverty.
Nevertheless, at the moment, Bras N Things is advertising 28 positions nationwide. That is more than four times Adani's actual offer of six jobs.
Six jobs might be a far cry from 14,500 jobs but that hasn't stopped Adani exploiting its job applications to henpeck the Queensland government:
"When you get 14,500 people wanting to work for you and most of these people come from Queensland, you would hope the Queensland Government would take notice,'' Adani Australia Mining chief executive Lucas Dow said in a statement.
"This sort of public response is a rejection of the fear and misinformation campaign waged by activists in an attempt to kill off the state's key industry."
Bras N Things, the nation's leading retailer of panties and bras, employs 1,500 staff. Adani employs just a handful, although Adani does claim that when its mine gets the go-ahead it will employ "1500 people directly and 6750 indirectly across Queensland".
The oft-touted 10,000 jobs figure which it and coal proponents have been spruiking for years appears to have faded away.
Pressure tactics
If this project were really just about to proceed, as Adani has claimed so often, the company would be hiring engineers hand-over-fist. Instead it is hedging its bets, playing just as hard for compensation as it is for coal mining while it ramps up its aggressive commercial tactics by threatening to sue its adversaries.
A draft copy of Adani's new law firm's strategy to bring the Carmichael mine to life is labelled "Taking the Gloves Off". The document, leaked to the ABC, outlines a commercial proposal by Queensland law firm AJ & Co to win a multi-million-dollar legal contract with the Indian mining giant.
"In the document, the Brisbane firm promised to be Adani's "trained attack dog".
"The strategy recommended bankrupting individuals who unsuccessfully challenge Adani in court, using lawsuits to pressure the Queensland Government and social media "bias" as a tool to discredit decision-makers."
In a section called "Play the Man", it recommended "where activists and commentators spread untruths, use the legal system to silence them". Indeed, it has deployed its aggressive litigation tactics against indigenous landowner Adrian Burragubba.
Compo demands
Meanwhile, a parliamentary hearing in Queensland was told last month that Adani had sunk $1.4 billion into its Galilee Basin project and would need to be compensated if the project did not proceed.
This is despite, not only the 90 per cent price deflation in new solar energy since 2010, but a concomitant 60 per cent fall in the price of new wind generation.
Adani Mining, which does not appear to have paid any income tax in Australia despite its $200 million income from its Abbott Point port facility – and which has well documented tax haven connections – is effectively demanding the taxpayers compensate it for technology risk and for getting its coal mining call wrong.
It cites two NSW coal projects as evidence it should be compensated. But Shenhua Watermark and BHP Caroona in NSW are different cases altogether, given these two firms paid a combined $300 million to purchase exploration licences from the NSW government.
That was a decade ago too, and so the negotiated re-purchase of the assets in 2016/17 was to repay monies paid to the NSW government.
Adani, in contrast, paid a combined $680 million to Linc Energy for its prospects; this to a private company which has subsequently gone belly up. No money was paid to the Queensland Treasury, so the two NSW cases do not provide any precedent.
And since 2010, alongside the massive deflation in renewable energy prices – rendering new thermal coal production non-commercial, the Paris Agreement occurred, climate change became more real, and its banks have fled the scene. The world is a different place.
Plainly, Adani got it wrong.
Public support is vital so this website can continue to fund investigations and publish stories which speak truth to power. Please subscribe for the free newsletter, share stories on social media and, if you can afford it, tip in $5 a month.